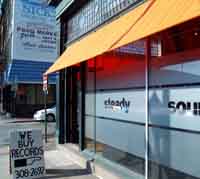 A slew of new shops are opening in Richmond's burgeoning arts district.
The stretch of Broad Street between Belvidere and First streets has been the home to the First Fridays Art Walk for several years, and retail stores are starting to follow in the footsteps of the galleries and restaurants that have helped revitalize the area.
Steady Sounds, a new record store, opened last week at 322 W. Broad St.
Drew Snyder, 32, parted ways with Carytown music store Plan 9 to launch his own business with musician Marty Key.
Snyder said the first week has gone well for the store, which sells new and used vinyl.
"The response has been really good, a lot of people just walking in. We are not really doing any advertising yet, just word of mouth," Snyder said.
Another new shop to the area is the Spaghetti Project at 321 Brook Road inside the Etterick Flats building. The store, owned by Arlene Munoz and her husband, Edgar, sells collectible vinyl toys, books, clothing and other art.
Munoz opened the shop in Fredericksburg, where she lives, a year ago, and it didn't quite take off. But now she says she has landed in the perfect spot, right in the middle of an active arts community.
"Everyone we met said, 'You need to move to Richmond, because VCU is there and there is a lot of art going on,'" she said.
First made popular in Japan, designer vinyl toys are more pieces of art than playthings. Some of the more limited edition figures cost a few hundred bucks.
"I can foresee us doing good here. I met quite a few collectors already who can get their Dunnys here and don't have to order online," she said.
Dunny dolls are white vinyl figures that enthusiasts can color to create their own characters.
Also opening in the area is thrift store Books, Bikes and Beyond, which recently moved from its first location on Brookland Parkway to 7 W. Broad St. The nonprofit store sells donated goods to support Books on Wheels, a mobile library and bicycle repair shop.
Owner Sheley Briggs said she looked at about 20 locations before choosing where she is now.
"I liked the way Broad Street felt. Having First Friday brings business without doing advertising," said Briggs.
She also said the price is right, too.
"It is very affordable. The rates are amazing. My advice to anyone is to rent down here," she said.
Another business has moved into the retail space at 11 E. Grace St., which has been vacant for nine years.
Joe Herbi and two partners are running a gaming and Internet lounge called Pay II Play. Herbi said they charge between $5 and $7 an hour for people to come and play all the games they want.
And finally, coming soon to the space vacated by clothing store the Henry Gallery is 212 Tattoo. The tattoo parlor has filed for a business permit to operate at that location.

Al Harris is a BizSense reporter. Please send news tips to [email protected]