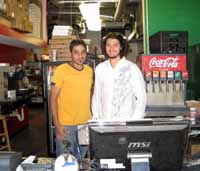 Money is still so tight that even the most experienced businesses are having trouble borrowing. But several local small businesses have recently opened or relocated with the help of a city program designed to revitalize certain areas of town.
In the process, Richmond's Commercial Area Revitalization Effort, or CARE program, has become an alternative source of lending for small businesses that couldn't get small loans elsewhere.
CARE offers incentives and low interest loans to businesses looking to rehabilitate foreclosed properties or revitalize vacant commercial properties in low- and moderate-income districts. And in the process it's helped other industries– such as commercial landlords and other small businesses that help new companies get up and running.
And according to Denise Lawus, Richmond's economic development programs administrator, interest in the CARE program is likely to grow due to the economy and tighter lending standards at banks.
"[Businesses] haven't been able to get assistance through banks, so we're another opportunity," said Lawus. "We want people to know the city is here to assist their technical and financial needs."
Since 2009, CARE has helped about 150 businesses by investing $714,000. When CARE first started in 1992, it was mainly helping communities between Commerce Road and Cowardin Avenue, and places along that area of Hull Street. Over time, the program has expanded to more than 10 areas, including Jackson Ward, Fulton Hill, Midlothian Turnpike, North 25th Street, North Avenue, Swansboro, Brookland Park Boulevard, Shockoe Bottom and Meadowbridge.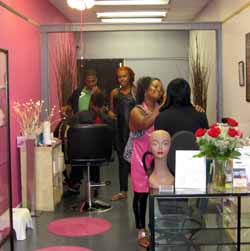 Luscious Lashes, a Richmond-based cosmetic eye services business (pictured right), used the CARE program to move to better location in June, and the business has flourished.
"I moved from Chesterfield because it was in a bad location and not really convenient for my clients," said owner Tamala White.
CARE provided White with a $3,000 loan in April to relocate to Southside Shopping Center on Hull Street and renovate the space.
"I wouldn't have been able to relocate my business without the help of the Economic and Community Development Department," said White.
Drew Papa and Ricardo Cucuzza (pictured at top of story) opened Papa's Pizza, Pasta and Subs at 214 Hull Street Road using CARE funds to transform a rundown building into a bustling carry out pizza place.
"This building was basically a shell before. It needed a lot of investment," said Cucuzza.
Papa's received a $6,000 rebate from renovating the building's interior and exterior and install security.
Other businesses built through CARE include RVA Construction, who notably invested $465,000 and received a $9,000 rebate; Russell Projects; and the recent relocation of A Blooming Child Petite Academy in Jackson Ward this month.
The program offers participants a 50 percent rebate, or up to $3,000 for each repair project toward improving interior rehabilitation, exterior rehabilitation and security. The maximum rebate qualified candidates can receive is $16,500.
The CARE loan program provides property owners a maximum of $50,000 for commercial rehab with a 4 percent interest rate. And the city doesn't just give the money to anyone. Borrowers must provide documentation that they can repay the loan, present a business plan, and have 10 percent down payment of the total project cost. Each project is also evaluated during the rehab process.
"The Department of Economic and Community Development conducts site visits, we go to evaluate the building, what will benefit them, and make cost-effective suggestions," Lawus said.
The program relies on the Richmond Economic Development Authority and profit from loans to fund future projects. It is managed by the EDA and the city's Department of Economic and Community Development.
"We try and do as much as we can with the funds that are available," Lawus said.