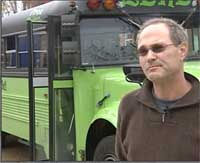 Bar-goers along Robinson Street will have a new way of getting around starting Friday night.
Free bus shuttle service To the Bottom and Back has added a third bus and will run a new route with stops along Robinson, Broad, Harrison and Grace streets, as well as the Boulevard.
The service launched about a year ago, running a bus between Carytown and Shockoe Bottom. The nonprofit's mission is to curb drunken driving, and it is supported by donation and its multitude of sponsors, which consist mostly of watering holes along the route.
BizSense wrote about To The Bottom and Back in June. You can read more about it here.