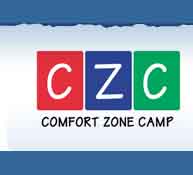 A shakeup at the top of a local nonprofit is causing a commotion among its supporters.
The drama began when the founder and former chief executive of Richmond-based Comfort Zone Camp ceded some of her power in February. She sought to regain control in September and was denied by the organization's board of directors. Now she's leaving the organization altogether, and a debate has erupted on Facebook about why she was ousted and what it all means for Comfort Zone's future.
The story was made public last week when Comfort Zone's board sent out a letter that vaguely explained the reasoning but didn't offer anything too specific about the board's decision not to reinstate founder Lynne Hughes as CEO.
"On September 27, 2010, the Board of Directors faced an excruciatingly difficult decision regarding the leadership of Comfort Zone Camp, and the future stability and growth of the organization," the letter began.
Comfort Zone was founded in 1999 by Hughes as a small bereavement camp to help children cope with losses. It has grown into a multimillion-dollar operation with locations across the country.
But that growth has brought some problems.
"In February 2010, the Board was made aware of significant management issues, which called into question the organization's ability to sustain its mission," the board's letter stated.
See the board's full explanation here.
At that time, Hughes and the board agreed that she would step down as CEO. Hughes stayed on as president and founder, and a new CEO was hired.
But that didn't last long. A few months later, according to the board's letter, Hughes wanted to regain full control of the organization, including over the financials, and the power to hire and fire employees.
The board didn't agree and offered her the position of visionary, spokesperson and strategist. She declined, making it clear that she would leave the organization if her demands weren't met.
The board, which is made up of an impressive roster of business executives, stood firm.
"The board voted unanimously that this solution – putting Lynne in the CEO role – would not be in the best interest of the organization," the letter stated.
Hughes will no longer be an employee of Comfort Zone after Oct. 8.
The debate is now online. A Facebook discussion page is filled with emotional reactions from campers' parents, volunteers and others. The responses include anger toward the board, with some users renouncing their financial support for the organization and others pleading that supporters keep their eye on the organization's mission to serve the children, not its CEO.
Rick Long, chairman of the Comfort Zone board, told Richmond BizSense on Friday that the organization was prepared to deal with some backlash for its decision.
"Obviously when you change out CEO and the founder leaves, it's a big deal," Long said.
Comfort Zone said Friday that Hughes was not available. There was no response to an email sent to Hughes.
"In a situation like this, there's always going to be multiple sides to the story," Long said.
"This was a very thoughtful, deliberate process," Long said. "There are some pretty seasoned executives on that board. We didn't take it lightly."
Long said the board was also aware that there might be some financial backers who decide to no longer donate to the group because of the shakeup.
"Inevitably, they'll be some people that have given in the past that won't give in the future," Long said.
One of the biggest supporters has been New York Life, which gave a three-year, $3 million grant to Comfort Zone. Long said they are now in the third year of that deal.
"Anytime you take on that responsibility, it's not just to do what the CEO wants, it a fiduciary duty," Long said. "There are a lot of people that have given a lot of money to this organization."
Matt Paxton, a local businessman and five-year volunteer at Comfort Zone, said that although the organization wouldn't exist without Hughes, there is more to Comfort Zone that just her.
"Although Lynne [and family] were a huge part of the camp, I think it's a disservice to the thousands of volunteers, campers and employees of CZC to act like the place will fall apart just because one person is leaving," said Paxton.
"If the camp's goal is to support grieving children around the country, than they made the right call and the board should be commended for making a difficult decision."
Comfort Zone has grown quickly since being founded in 1999. In 2006, Comfort Zone had $2.1 million in revenue and $892,000 in expenses, according to IRS tax forms. Hughes was paid $75,000 that year.
By 2008, revenue was up to $3.2 million, and expenses were up to $1.6 million. Hughes was paid $105,000 that year.
Michael Schwartz is a BizSense reporter. Please send news tips to [email protected]