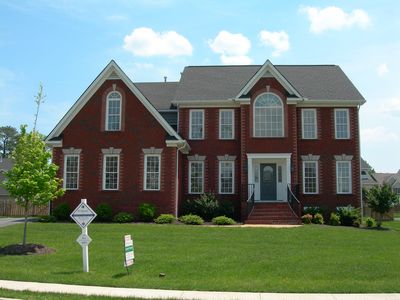 Residential lots at two more of Tomac Homes' high-end developments are going into foreclosure.
According to a legal notice last week, Paragon Commercial Bank is moving to foreclose on a total of 14 residential lots at Tomac's Roxshire and Brookcreek Crossing developments. The homes sell for well over $300,000 each, according to Tomac's website.
A wave of foreclosure notices have been piling up for the Midlothian-based home builder in the past couple of months. Lots in at least six of its nine residential developments have gone into foreclosure since August, and the builder's problems are affecting banks across town.
And according to Paragon's Richmond market president, Mike Keck, the lots are no easy sell for any of the banks.
"The issue is we financed these lots at the peak, as did the other banks," said Keck. "Since the bubble burst, the lots certainly don't have the value they had when they were financed."
In August, SunTrust foreclosed on more than a dozen Tomac residential lots in its Edgewater and Foxfield developments.
In September, Franklin Federal Savings Bank foreclosed on dozens of lots at Tomac's The Bluffs at Bell Creek, a development in Hanover, and Crawford Park at Greenbrooke, a subdivision the company was building in Glen Allen. Read a BizSense report about those developments here.
Tomac, the ninth-largest local home builder through the first half of the year, was also sued by Union First Market Bank in August for millions of dollars on a construction loan that had gone into default. The loan was personally guaranteed by Tomac President Thomas Cauble. Read more about the suit here.
Keck said banks face several problems when trying to resell residential lots reclaimed through foreclosure. First, most are underwater. Keck said that during the boom it wasn't unusual for lots to sell for more than $100,000. Those values today, he said, have dropped by 30 to 40 percent.
Second, if a bank manages to find a buyer and a decent price, the next challenge is whether that buyer can get financing to build a home on spec on the lot or whether there is even potential to sell the house.
"The trick is right now getting financing to build on the lot, and, if you do, is there someone to buy the home?" Keck said.
Keck said Tomac is one of a number of established and respected local home builders that got caught up in the boom.
"A lot of fine builders that had good reputations and built good homes got a little bit out on the risk curve and couldn't continue," Keck said.
Michael Schwartz is a BizSense reporter. Please send news tips to [email protected].