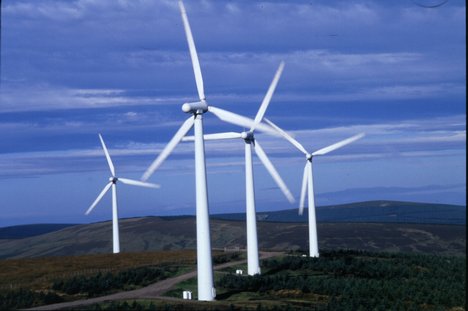 The day before Gov. Bob McDonnell's three-day conference on energy, the Sierra Club has issued a report blasting the governor's agenda and making several recommendations of its own.
"Just because we are the Old Dominion, doesn't mean that we need to rely on old energy," said Glenn Besa, the club's Virginia director.
The Sierra Club's report criticizes McDonnell for his support of offshore drilling and his lack of support for alternative sources of energy such as solar and wind. Ivy Main, one of the authors of the report, says that lack of action is putting Virginia behind its fellow Mid-Atlantic States.
"While we are standing still, other states are pulling ahead," Main said during a teleconference yesterday.
"All of the other Mid-Atlantic coast states have mandatory efficiency measures or mandatory portfolio standards. All of them are ahead of us in what they are doing and making it work, by not just putting out incentives but also creating jobs," Main said.
The report calls for Virginia to adopt a mandatory renewable portfolio standard of 20 percent of total electric demand by 2025. That would set the minimum amount of alternative sources, such as solar and wind, that utility companies would have to use to generate power.
"We have one of the best places for offshore wind turbines and could be producing a big percentage of our energy there. We have the conditions but none of the incentives without a mandatory renewable portfolio standard," Besa said.
The report refers to a study by the Virginia Coastal Energy Research Consortium that identified the potential for 3,200 megawatts of wind power of the coast of Virginia Beach, the development of which would create about 10,000 jobs over a 20-year period, according to the study. (One megawatt is enough electricity to power about 250 homes.)
Besa said a joint project announced last week in which Northrop Grumman and Spanish wind energy company Gamesa are to develop a prototype offshore turbine is a step in the right direction but that the 40 or so jobs created in Hampton Roads as a result is far from the number that would be created with stronger portfolio standards.
The Sierra Club's other recommendations include:
— Strengthening efficiency standards
— Increasing the price of electricity during peak usage times
— Funding programs that help homeowners improve home efficiency
— Rescinding tax credits paid to coal companies and utilities
— Offering tax credits for investments in renewable energy
— Reinstating funds for the Virginia Coastal Energy Research Consortium
McDonnell has previously said that he wants to make Virginia the energy capital of the east coast by developing traditional, alternative and renewable energy resources and making the most of conservation and efficiency. The Governor's Conference on Energy will take place Oct. 12-14 at the Greater Richmond Convention Center and is estimated to draw about 800 people.
In an interview with the Richmond Times-Dispatch, he said the goal of the conference is to have a robust discussion aimed at promoting low-cost energy production. The other, more long-term, goal is to create jobs in a full range of energy sectors.
T. Boone Pickens, a billionaire natural gas and wind advocate, will deliver a keynote address. (RBS will have coverage of that event.)
The governor is scheduled to speak, as are Attorney General Ken Cuccinelli and Secretary of Natural Resources Douglas Domench. A total of 175 speakers are expected to speak at the event.

Al Harris is a BizSense reporter. Please send news tips to [email protected]