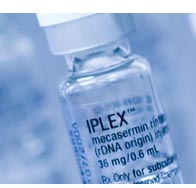 A woman from upstate New York has filed suit against Richmond-based Insmed to regain access to an experimental drug the company no longer manufactures.
According to a dramatic story reported in the Albany Times Union, Angeline Cacchillo has a rare muscular dystrophy disease and says Insmed's drug Iplex, was showing positive results in helping her fight her ailment.
According to the story:
In the fall of the 2008 the experiment that the Cacchillos believed was prolonging and improving her life abruptly ended after six months. The Virginia drug company behind the study, Insmed, declared their patented drug had no effect on the myotonic muscular dystrophy that has afflicted Cacchillo and some 38,000 others nationwide.
Insmed no longer manufactures the drug and it sold its only manufacturing plant to a competitor. What's left of the drug, according to the report, has been distributed mostly to patients in Italy for a study of another disease.
In a suit the Times Union calls unprecedented, Cacchillo alleges Insmed led her to believe she could continue taking the drug under a "compassionate use" application even if the drug was not approved by the FDA.
Insmed, according to the the Times Union, has its reasons for fighting the suit:
[Insmed] said their research showed the drug failed to help people with myotonic muscular dystrophy, including Cacchillo. Also, the company no longer produces the drug and Insmed can't support her application because they would have to assert to the FDA that Iplex helped her.

That's not a statement we can make. … Those that got the sugar pill did better than those that got the drug," Robert P. Charrow, an attorney for Insmed, told U.S. District Judge Thomas J. McAvoy during a hearing Friday.
Read the whole story here.