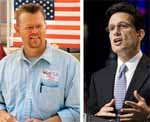 With midterm elections just a few weeks away, BizSense brings you an interview with the Democratic challenger to incumbent Rep. Eric Cantor.
Rick Waugh, 36, is a social worker from Louisa County. Waugh graduated from Radford University in 1998 with degrees in psychology and criminal justice. His political career began in 2007 as a volunteer for Barack Obama's presidential run. Following the election, Waugh was awarded the Virginia Grassroots Award by the state Democratic party.
BizSense talked with Waugh about his stances on a number of business and economic issues.
Below is an edited transcript.

Richmond BizSense: Your slogan is "end corporate welfare." What exactly do you mean, and why is it a priority?
Rick Waugh: You can save all sorts of money by cutting incentives for shipping jobs overseas and cutting incentives for big business to advertise overseas.
Fortune 500 companies — many of them are not paying any taxes whatsoever. They get this incentive when they make a certain goal or profit and do not have to pay the same taxes. Some small businesses have to pay more taxes, and that's wrong.
We need to cut insane giveaways to these agribusinesses and big businesses. We need to stop rewarding CEOs for running businesses into the ground. It seems to come down to whoever can afford the politician's price for the votes, that's what they do.
RBS: Foreclosures continue to rise, and there is some talk in Washington about imposing a national freeze on foreclosures. Do you support this idea?
RW: We have banks that provided these loans and mortgages, yet we have some folks saying that banks should not have to be held accountable. Why are we playing by a different set of rules if banks are just allowed to get away with breaking the law? We need to complete the investigation and see if there is any funny business going on. Yes, I agree with the moratorium.
RBS: If elected, how would you address the needs and concerns of small and mid-size businesses?
RW: We need to start giving tax incentives to those who create jobs here in this district. We need to stop giving tax incentives to employers who send jobs overseas. We need to make Fortune 500 companies pay the same taxes as the small businesses. It's not fair [that small businesses] have to pay more.
In the long term, we can invest in education. We need to make sure education is the number one priority funded in America, not number two, three or 15.
Another thing is investing in clean energy. There are plenty of jobs to go around if we are investing in wind and solar in this district. The problem is Big Oil, and their money has given way to politicians saying it's all right to have deep-water rigs off the Virginia coast.
RBS: Do you have any ideas in terms of helping spur job creation? What do you see as the major obstacles slowing down employment?
RW: I think the biggest thing that has hurt our job creation is that my opponent, Eric Cantor, thinks it's okay to play by different rules. It's okay for "too big to fail" companies to play by one set of rules and then small-business folks on Main Street playing by a whole different set of rules. He has continued the same rhetoric with his pledge to America, which does not address good job creation, education or clean energy.
The key to creating jobs is investment in infrastructure. You invest in those companies that are creating jobs in our district, keep them here where they belong, not Asia or Europe. You provide incentives for banks to provide loans to businesses.
RBS: You campaigned very hard and effectively for President Obama in Louisa County. How would you assess his performance so far, particularly in terms of the economy and trying to clean up the financial mess? Are is there anything that you wish he had done differently?
RW: I think education is one of the things we can further our advancement on. Funding for schools should not be based on test scores. Funding should be equal among all students no matter what school they are at. We need to make sure we have equality among all schools and students.
In regards to the environment, I opposed Barack Obama when he approved oil rigs off the coast of Virginia. I think we need to further our investment in clean energy more so than allowing deep-water oil rigs.
RBS: Do you have anything else you would like to share with the BizSense Nation? Why should our readers, primarily members of the business community, vote for you in November?
RW: Eric Cantor is going to try and buy the election and do everything he can to use his big corporate money to put commercials on TV and put massive signs on the sides of roads. That's how he campaigns, and that is how he thinks he will win this election.
We are going around knocking on doors and calling folks. The essence of our campaign is to listen to the voters. What people are telling me is that they are upset about Cantor bailing out his wife's bank, upset he voted to abolish Medicare, upset at him for cutting teachers' jobs and upset he won't vote to raise the minimum wage.
These are things people want answers to, but Cantor — in four years — hasn't had a single town hall and has refused two debates.
In regards to mortgages, I am very angry at Eric Cantor for not holding people who are breaking the law accountable, allowing for a different set of rules for one group and a separate set of rules for another.
BizSense is in the process of scheduling an interview with Rep. Eric Cantor. Conservative Floyd Bayne, a member of the Independent Greens of Virginia, is also running.