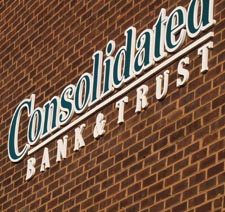 The troubles at Consolidated Bank and Trust are now haunting the coffers of the federal government.
The historic bank's parent company announced this week that it is not allowed to make its quarterly payment to the U.S. Treasury for TARP funds it received because Consolidated Bank is under written agreement with regulators.
Consolidated's West Virginia-based parent company, Premier Financial Bancorp, said this week that it wanted to make a dividend payment on the $22.2 million it took in TARP funds last year. Under the TARP Capital Purchase Program, banks must pay quarterly dividends of 5 percent on the money they received.
But because Consolidated is under regulatory agreement to correct credit issues, Premier has to ask permission to pay any type of dividend and was denied. The irony is that Premier used the money it received from TARP to help it acquire Consolidated's previous owner, Abigail Adams National Bancorp.
Now the TARP fund must wait to get paid until Consolidated is released from the agreement either by meeting all the agreement's requirements or by merging it into a strong bank. Premier is banking on the latter.
It revealed in early September that it will soon do away with the Consolidated name and rebrand the bank's branches under its new Premier Bank brand. Read a BizSense report about what will become of the Consolidated name its two branches here. https://richmondbizsense.com/2010/09/02/banks-heritage-consolidated-into-the-history-books/
Premier even appealed the Federal Reserve's decision to deny its request to pay the TARP dividend. That appeal was also denied.
This isn't the first time Premier's hands have been tied because of Consolidated's recent issues. Last month Premier wanted to pay a dividend to its shareholders. Despite being profitable and well capitalized, Premier was unable to pay the dividend because Consolidated is under written agreement with regulators to fix a few problems the bank has been battling. Read more on that here. https://richmondbizsense.com/2010/08/27/bank%E2%80%99s-troubles-haunt-new-owner/
Now because of this TARP dividend issue, Premier's regular shareholders cannot receive dividends until the company pays the cumulative in back dividends to the Treasury Department.