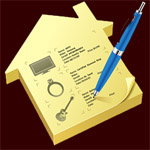 With every download, entrepreneurs Kevin and Diane Hamilton are closer to turning what started as a pet project into a full-blown business venture.
Kevin was a Windows software developer but wanted to learn how to make programs for the Mac, so he decided to make a program that he could use to keep a record of the guitars he owned and of their value. Then he built one that helps people quit smoking.
The guitar program, now titled Home Inventory, could be used to track other valuables for insurance purposes.
"Kevin started this is as a hobby in 2005," said his wife, Diane. "When it was done, he put it online for people to download.
"By the end of the year we had five customers, but then people started finding it and buying it," she said.
The couple formed a company called Binary Formations to sell the program and develop additional titles. The business is run out of their Mechanicsville home.
The computer program, which costs $35 and is only available for Macs, has been downloaded more than 4,000 times. In February, they updated the program with features and tweaks made based on customer feedback. Diane said the business is developing a version that will run on the iPhone and the iPad.
Both Hamiltons had worked in the enterprise software business for different companies, developing and testing software used for business operations. Amid the growing success of the Home Inventory program, Kevin recently quit his day job. Diane is working part-time.
"What we have is some momentum going, and we want to take advantage of that," Diane said.
That momentum is thanks in part to positive reviews in specialty publications. This month, the program is one of 38 applications spotlighted in a featured article on low-cost, must-have downloads in Macworld magazine. The program will be featured in a Mac magazine in the United Kingdom later this year.
Diane said that sales double or triple in the weeks following a review.
"Our challenge is to keep things like this going," she said. "I'm trying to contact more broader magazines like Real Simple, which is not a technology magazine, but it's about bringing simplicity to people's lives."
Another outlet Diane said they are exploring is getting their program into the hands of insurance agents with the hopes that they will want to recommend it to their clients. They interview agents and adjusters ever year or so to make sure their features are on the right track.
There are no immediate plans for a Windows version, despite numerous requests.
"As a business, you have to stay focused. You have to focus on what you are good at. [Developing a PC version] would take attention away from the Mac market, which is growing and huge," Diane said.
In addition to the success of Home Inventory, Binary Formation recently released its second title, which is an app for the iPhone and iPod Touch called Kick the Habit. It is available for 99 cents.
The program tracks how long it has been since you had your last cigarette and generates mini-games to play when you get the craving for a cigarette – such as 25 pushups.
It also gives you punishments when you cave in and report that you had a smoke. Volunteering at a soup kitchen is an example of a "punishment."
"The intent is not to sell millions," Diane said. "Really the focus of that is to get a quick app into the App Store so when we come out with the Home Inventory app we have already been through the process of getting approved and getting legal lined up."
Although Home Inventory is the company's focus for now, Diane has a long-term vision for the company. The couple has a few prototypes in the works.
"The goal is to get bigger," Diane said. "My goal is to be able to hire people and give other people an opportunity to be a part of something like this."