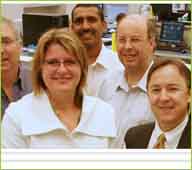 A Richmond medical diagnostic startup is on a hiring binge and plans to upgrade and expand its downtown facility.
Richmond-based Health Diagnostic Laboratory Inc. announced Wednesday that it is adding about 200 local jobs and spending $4.2 million on equipment.
The company, which had four employees in January, expanded yesterday from 10,000 square feet to close to 40,000 square feet in the Virginia BioTechnology Research Park.
"We have been hiring about half a body a day," said Tonya Mallory, HDL's co-founder and CEO, adding that those positions include lab technicians, IT, medical billing personnel, and health coaches.
HDL has 129 employees and plans on having 213 by the end of 2011, Mallory said.
HDL runs lab tests to detect diseases such as heart disease, diabetes, fatty liver disease and metabolic syndrome. Most of the lab tests are also available from competing companies. But HDL then helps patients and doctor's come up with an individualized treatment plan for each patient based on the results of those tests.
"We sell a partnership for [treating] chronic disease," Mallory said. "We help doctors understand lab tests and then what to do with the results of the lab test, and the treatment options. Then we work with the patients to make sure they understand."
The company then bills insurance.
The company is funding the rapid expansion with profits and not from any sort of debt or equity raised, Mallory said.
"We have been growing at 20 percent a month," she said.
Bob Skunda, president and CEO at the BioTech Park, said that few biotech firms see HDL's sort of exponential growth.
"No one, probably not even them, really believed they would expand as rapidly as they have," Skunda said. "It's a tremendous success for them, for the park, and for Virginia."
"I've never seen a company move in – what I would call a very mature market – to become a significant market player," Skunda said.
Skunda said the more hands-on touch with doctors and patients is the key to HDL's business.
"Rather than simply doing a test on a patient, which is what all the competitor labs do … they actually work hand-in-hand with both the doctor and the patient in a very engaged and on-going basis."
Aaron Kremer is the BizSense editor. Please send news tips to [email protected].