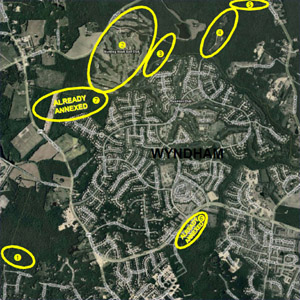 Real estate giant HHHunt is pursuing plans to expand the Wyndham subdivision by annexing almost 400 additional acres of land.
The growth would push the boundaries of Wyndham into neighboring Hanover County and also envelop Hunting Hawk Golf Course.
Jill Crews, marketing director for HHHunt, said in an e-mail to BizSense that the company has no immediate plans to develop the land. Under the subdivision's covenants the company has the right to annex additional land within two miles of Wyndham until Dec. 31.
According to a letter sent to residents by the Wyndham  Foundation, HHHunt sought to extend the annexation deadline by as much as 20 years but the proposal was rejected by the board members.
A town hall meeting for residents will be held at the Wyndham Swim & Racquet Club on Nov. 16 at 6 p.m.