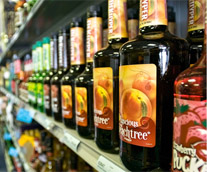 The decision last week by Gov. Bob McDonnell to call off the special session on government reform was a sensible and pragmatic response to the political realities of ABC privatization. However, it does not mean that efforts to privatize ABC stores will not continue – because this idea of government getting out of the commercial liquor business makes sense, and it will happen at some point in the near future.
The problem with ABC privatization is not the concept, which is supported by a wide margin of Virginia residents. The challenge is coming up with the money to replace the current system, which places an average effective tax rate on distilled spirits of 94 percent.  The way the current system works is that a 20 percent excise tax is placed on all alcohol products at the wholesale level. But because the state controls the retail distribution, this gives state officials the ability to mark up the product seemingly without limitation.
As reported over the summer by the Washington Post, the average mark-up for distilled spirits at Virginia ABC stores is 69 percent. Coupled with the excise tax and the 5 percent sales tax, this creates what is by far the highest level of direct and indirect taxation on any Virginia product: a whopping 94 percent. As one example, the Post analysis found that a bottle of Jack Daniels purchased from the distillery for just $11.48 a bottle was selling in ABC stores for $24.68.
The current system of ABC liquor sales needs to change because it violates basic principles of good governance: focusing activities on core government services, transparency, fairness and creating a level playing field in a way that doesn't favor some products over others.
First and most importantly, the retail sale of spirits is not a core function of government.  Not even close. The retail sale of liquor is a holdover from a period immediately following the end of prohibition when spirits carried a higher stigma than beer or wine.  Liquor is now the only commodity sold exclusively at state retail stores. Our state government needs to focus more attention on issues such as education and transportation and rid itself of ancillary issues such as selling hard liquor.
The system violates the principle of transparency because the mark-up is a hidden tax.  Let's face it: Legislators like being able to create revenue without voters understanding or knowing what's going on. Imagine the outrage that would occur if a Virginia resident went to an ABC store to buy a $20 bottle of spirits and the cashier rang up the sale for $38.80.  Spirits drinkers would have the pitchforks out and would be starting a revolution.
Another characteristic of good governance is fairness. It's one thing for the public not to understand the process – the sausage-making – of a policy. It's another thing to enact a policy that results in an outrageous outcome. An effective average tax rate of 94 percent on any consumer product is outrageous.
The final policy consideration for throwing out the existing system is that it treats liquor differently than beer and wine, even though they have virtually identical health and safety risks. Yes, liquor has a higher percentage of alcohol, but that does not translate into more harmful behavior. The Centers for Disease Control says that one serving of liquor carries the same health risks as one serving of beer or wine. In simple terms, the risk comes with the number of servings a person consumes, not the type of alcohol. This is reinforced by studies showing that incidents of social harms such as binge drinking are actually much higher with beer than with wine or spirits.
What is truly remarkable is that there are more than 6,500 retail outlets in Virginia that sell beer and wine. The cost of a typical off-premise license for beer and wine is just $230. This is very much a free market approach to a consumer product. In comparison, McDonnell's plan is cautious. He is seeking to allow just 1,000 retail establishments to sell spirits, and licenses would fetch upward of $500,000 or more in some cases.
The bottom line is that we should not be comparing the governor's plan with the status quo because the current system is so unfair. As we've seen over the past six months, it's not easy to replace the revenue for a product with an effective tax rate of 94 percent. That being said, the ABC issue is entering a new phase: that of negotiating details and forging a coalition necessary to pass a bill. In the regular session of the General Assembly in January, McDonnell and proponents will have a much stronger hand to play when it comes to crafting a bill that can pass.
The wonderful thing about a democracy is that politicians are accountable to the people.  As more and more voters get the facts about ABC privatization, they will demand change to the current system, and Virginia will join the overwhelming majority of other states that has realized the retail sale of spirits is not a core function of government and needs to be replaced.

Mike Thompson is chairman and president of the Thomas Jefferson Institute for Public Policy.