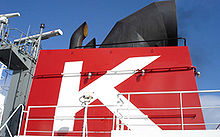 A Maryland man plead guilty to mail fraud related to a scheme in which he embezzled $370,000 from his employer, Richmond headquartered K Line America.
Timothy Kany Sr., 49, worked as a manager in K Line's Baltimore office. K Line America is the U.S. subsidiary of the Tokyo-based ocean cargo company. According to his guilty plea Kany created two fictional companies which he used to submit false invoices to the company.
A press release from the FBI office in Baltimore explains his scheme in detail:
In late 2000, Kany began embezzling funds from K-Line through a scheme in which he created two entities, Pawl's Port Services and Bayview Ship Service, which existed in name only. Kany approved invoices which sought payment from K-Line for custom ship services purportedly provided by Pawl's and Bayview. K-Line paid the fraudulent invoices and mailed checks to the companies at P.O. boxes in Bel Air and Abingdon, Maryland, which Kany controlled. Kany or another individual retrieved the checks and deposited them into bank accounts set up for the entities.

Between 2000 and 2009, Kany submitted over 1,400 fraudulent Pawl's Port and Bayview invoices to K-Line for payment, embezzling a total of $270,488.25 in K-Line corporate funds, which he used for his personal benefit.
In 2003 Kany got his assistant , Kriste Lynn Ferrell involved in the conspiracy to embezzle additional funds.
Kany offered to instruct Ferrell on how to set up a similar scheme for her own benefit. Ferrell created Chesapeake Cargo Services, an entity that existed in name only. From late 2003 or early 2004, through August 2009, Ferrell and Kany conspired to submit for payment fraudulent Chesapeake Cargo invoices, in place of legitimate invoices received from a vendor that provided actual services to K-Line. The fraudulent invoices submitted to K-Line for payment inflated the cost of the services provided by the legitimate company. Ferrell and Kany submitted approximately 620 false invoices to K-Line claiming $225,921.35 in services rendered. Once K-Line paid the inflated Chesapeake Cargo invoice and mailed a check to a post office box under Ferrell's control, Ferrell deposited the embezzled K-Line funds into Chesapeake Cargo's bank account, paid the vendor, and kept the difference for herself and Kany, which totaled $100,894.95. Ferrell used the embezzled funds to make personal purchases for herself and to make cash payments to Kany.
Ferrell plead guilty to mail fraud last week.