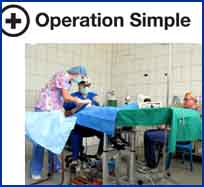 Two VCU graduates are working to turn a class project into a life-saving enterprise.
Skylar Roebuck and Lauren O'Neill were part of a team of students that developed a prototype for a low-cost operating table designed for use in developing countries. Now they have formed a company, Operation Simple LLC, to continue development and testing of the product for future sale.

Roebuck and O'Neill worked on the project along with other students at the VCU da Vinci Center for Innovation, a program that brings together engineering, business and arts students interested in product development.
The operating table was the first product to be developed at the center, with the idea coming from a biomedical engineering student who saw a need for operating tables while on a trip to Bangladesh. The original goal was to design an operating table that could be sold for $500.
"I like to say that it is elegantly simplistic in that it breaks down and fits in a small box and can be put together with standard tools," Roebuck said.
The table is an alternative to standard operating tables, which can cost as much as $80,000. Made of stainless steel and aluminum, the table weighs less than 100 pounds and is packed to fit inside a 24-inch cardboard cube.
After graduating, Roebuck and O'Neill decided to continuing working on the project as a business venture, with encouragement from Kenneth Kahn, director of the da Vinci Center.
In March, they received a grant of $20,000 from the National Collegiate Inventors and Innovators Alliance to fund further development of the product.
They had a working prototype built, which was taken to Honduras by Surgeons Without Borders and used to perform around 60 cleft palate surgeries. It was left behind for continued use by a rural clinic there.
A group from Henrico Doctors hospital will be taking a second table to the Philippines in January.
Roebuck and O'Neill are negotiating a licensing agreement with the university so that they can start selling the table to charity groups that conduct similar medical missions overseas, which they have identified as their target market.
"They take everything with them. The only thing they don't bring is tables," Roebuck said.
Once they get to a foreign country, Roebuck said, doctors have to perform surgery on whatever surface is available. In some cases, that might be a piece of plywood or foam egg crates.
Roebuck said that the goal of selling the tables for $500 seems to be unreachable at this stage.
"It's possible if you make them in China," Roebuck said. But there isn't demand yet to make that feasible.
Instead, the tables are being made to order by Rayco Industries, a local machine shop and custom fabricator in Richmond, and they can be sold for about $2,500.
Roebuck said they have enough funds from their grant to produce three or four more prototypes.
One of those will be put aside for destructive testing, which will provide them with specifications such as how much weight the table can support. Roebuck said they want to get the other tables in the hands of mission groups to test so that they can get back more feedback.
The company is seeking donations or investors to help cover costs such as legal fees, for which money from the grant can't be used.
Roebuck, who is preparing to go to graduate school at Carnegie-Mellon in the spring, said part of the challenge in growing the company is making contact with larger organizations and third-world governments and raising awareness of the product among the thousands of medical mission groups across around the country.
Last week the company launched its website, and already Roebuck said they have gotten a promising lead from a Nicaraguan NGO. Operation Simple will have to find many more leads before it can scale up and start thinking about building up an inventory.
"Our goal is to get to the point by January where we have it tested and licensed [and] then to keep sending on trips, getting feedback, and generating more interest. Hopefully it catches on from there," Roebuck said.
Al Harris is a BizSense editor. Please send news tips to [email protected]