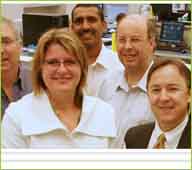 Seven local biotech firms have received an infusion of funds from the federal government as part of the health-care overhaul passed this year.
In Virginia, 45 companies were awarded $11 million in tax credits and grants from the $1 billion pot that was created for the Qualifying Therapeutic Discovery Project. Of that, seven firms in the Richmond area received more than $1.8 million.
Mark Herzog, director of the Virginia Biotechnology Association, said the grants are a significant injection of capital.
The credit covers up to 50 percent of the cost of qualifying biomedical research and is only available to firms with fewer than 250 employees.
"Life sciences companies, more than any other industry, truly suffer in how long it takes to get a product to market because of the regulatory challenges drugs face," Herzog said.
The purpose of the program is to provide funding for specific projects geared toward unmet medical needs and in the long term to reduce overall health-care costs for patients.
Getting a drug or device to market can take as long as 15 years, during which time companies burn through cash rather than turn a profit, Herzog said. He said that only about one in five companies lasts to the end and see its drug approved.
"Even in the best of times, these are companies that have a hard time going through this process," Herzog said.
The Richmond companies receiving funds are involved in a wide variety of technologies, including stem cell therapy and cancer treatments.
GPB Scientific, located in the Virginia Biotechnology Research Park, will use its $244,479 grant  toward developing therapeutic stem cells from umbilical cord blood. Health Diagnostic Laboratory won two grants. Last week HDL announced it is investing more than $4 million in equipment and adding 200 local jobs. (You can read more about that in an RBS story here.)
Lestoni Corp. received $244,479 over a two-year period toward developing a new cancer treatment. And Molecules for Health Inc. received $152,106 over two years to be used for accelerating clinical trials of a drug called Didox.
Howard Elford of Molecules for Health said that the drug was developed to treat cancer but that it also shows promise for treating sickle cell anemia. The grant money will cover the cost of hiring a research organization to submit the paperwork needed to enter phase one scientific strategy.
"This program is very beneficial for us. We've been talking about doing this for it long time. The grant gives us the spark to be able to do something," Elford said.
The sickle cell clinical trials would cost another $2 million to $3 million to conduct, Elford said. If those are successful, it would attract more private investment the company needs to continue trials of the drug for treating cancer, which are more costly to conduct.
Osteologix Inc. in Glen Allen received $244,479 for development of a drug to treat bone disease.
WellAWARE, a company that makes patient monitoring systems, also received $244,479.
One company opted for a tax credit instead of a grant. Intelliject, which secured a $25 million licensing deal last year for the injection device it is developing for allergic reactions, received a $244,479 tax credit. You can read more about them here.
Spencer Williamson, president and chief executive of Intelliject, said the credit will help them move their lead product through the final approval stages faster and accelerate the development of other products.
"It is an opportunity to offset or reduce that tax burden, which allows us to take that money and put it right back into research and development for pioneering products," Williamson said.
Williamson said they chose to receive the credit instead of a grant because they are actually turning a profit.
"You don't see too many life sciences companies that are paying taxes. Frankly, most lose money for a long time before they make any money. We are blessed to be in a position to be profitable, but with that comes the downside of taxes," he said.
Al Harris is a BizSense reporter. Please send news tips to [email protected].