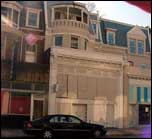 Locals sometimes refer to it as "Little Baghdad," but three burned-out properties on the 200 block of East Grace Street are finally getting made over.
Work has started on the late-19th-century homes to make way for 15 apartment units. The developer also plans to restore the three storefronts.
East Grace Street Properties LLC acquired 211-215 E. Grace St. in June after the bank foreclosed on the previous owner, Oliver Lawrence of Bayou Properties. The buildings had been subject to numerous code violations and have been vacant since a fire ripped through them in 2007.
East Grace Street Properties scooped up the properties, which consist of just over 10,000 square feet combined, at auction for $347,000.

Ben Adamson, general contractor for the project, said that about $1.5 million is going into the rehabilitation, which will also seek state and federal historic tax credits.
"The building is in pretty rough shape," said Adamson, whose company, Corinthian Construction, has been working since permits were approved in mid-October. "The center building, 213, is pretty much totally gutted, and there is fire damage to the buildings on either side."
The job is also the first official one for Corinthian Construction, a new general contracting company formed by Adamson and partner Mike Stewart, both whom also work for Robin Miller & Associates.
Adamson said they hope to have the project finished by May, in time for the spring rental market, with apartments offered in the $800 to $1,300 range.  The group has also had discussions with the owners of the neighboring building, which used to house Richmond Camera about renovating that property as well.
"Grace Street is such cool frontage, and it has looked so bad for years. Everyone we have spoken to is very ecstatic that it is actually happening," Adamson said.