Facing eviction at the hands of its landlord, a Chesterfield baseball school has called in its lawyer from the bullpen.
Richmond Baseball Academy South, LLC, a Chesterfield business that offers baseball camps and private lessons, has sued to keep SportsQuest from terminating its lease.
Meanwhile, SportsQuest has launched a baseball academy of its own, putting it in competition with its tenant, and SportsQuest has yard signs up around Richmond Baseball Academy's building promoting its program.
SportsQuest, according to the case filed last week in Chesterfield Circuit Court, wrote in a communication with Richmond Baseball Academy that the lease was terminated when SportsQuest took control of its previous landlord last year.
Richmond Baseball Academy is seeking an injunction from having its lease terminated, arguing that SportsQuest does not have legal standing to void the lease.
The problems for Richmond Baseball Academy seems to have started after SportsQuest took over operations of the building's main tenant, Athletes Complete Training Source, Inc.
In a fax to Richmond Baseball Academy, a copy of which is included as an exhibit in the suit, the president and general counsel at SportsQuest wrote: ?"By operation of law, at that point, your sublease with ACTS, Inc. was likewise terminated and your tenancy became month-to-month subject to termination upon 30 days notice."

The case is scheduled to go before a judge Nov. 17.
Richmond Baseball Academy had subleased space from ACTS since 2006, according to the lawsuit. ACTS had signed a lease with the building's owner, Neil Carns.
In October 2009, ACTS was merged into SportsQuest, according to the suit. No money was exchanged, but ACTS became a 0.26 percent owner in SportsQuest, LLC, according to an exhibit that shows all the other equity investment interests dated November 2009. (That exhibit, which is more than a year old, also shows other investors and their stake in SportsQuest and values the business at a little less than $40 million.)
SportsQuest then took over the facility and collected rent from Richmond Baseball Academy, the suit contends.
Richmond Baseball Academy was instructed to make its rent checks payable to several SportsQuest-related entities, the suit said, including SportsQuest Foundation, ACTS, ACTS/SportsQuest, and ultimately simply to SportsQuest.

Steve Burton, the founder of SportsQuest, said he cannot comment on an ongoing case. Both Richmond Baseball Academy and the company's attorney, Bradley Marrs from the firm MGM Law, declined to comment.
In an email dated Oct. 6 and included as an exhibit in the suit, SportsQuest told RBAS that it had until the end of October to vacate the building at 2240 Oak Lake Blvd.
In a fax dated Oct. 31 (you can see it here), SportsQuest told Richmond Baseball Academy it had until the end of November and that it would be charged $6,000 in rent for November. The normal rent was about $3,000 a month. In December, the rent will go up to $9,000, according to the fax.
SportsQuest is a 250-acre sports campus under construction in Chesterfield. Plans are evolving but call for facilities and leagues for dozens of sports. Currently, the complex has turf fields with soccer goals and football goal posts. SportsQuest has swallowed existing sports leagues, which has at times caused friction with existing programs that feel threatened.
SportsQuest got into the baseball business after it gobbled up the Richmond Braves club team.
Richmond Braves Director Tommy Mayers said the deal gives the club, now being c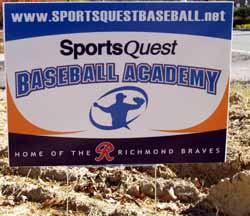 alled SportsQuest Baseball, access to turf baseball fields and training facilities at an indoor warehouse.
It's also part of another ambitious plan that SportsQuest has in the works.
"We're also going to be part of SportsQuest University, where athletes from around the country and world will come live and go to school here," Mayers said.
Mayers said SportsQuest serves as an umbrella support system for existing leagues and businesses, handling the money and promotions but leaving the management to each sport specialist.
"SportsQuest is the general entity, and each sport is its own business model with directors of each sport within SportsQuest operating as independent businesses," he said.
Get caught up on previous stories: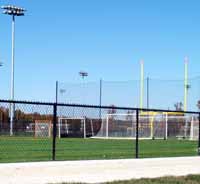 Is Chesterfield sports facility a quixotic quest?
County tries to hedge its SportsQuest bet
SportsQuest grant request goes to supervisors

Aaron Kremer is the BizSense editor. Please send news tips to Editor (at) richmondbizsense.com.