There's at least one booming retail business that's looking to expand ASAP.
Richmond-based Goodwill Industries of Central Virginia has requested $20 million in bonds from the Virginia Small Business Financing Authority to build six retail stores and hire as many as 180 people.?? Goodwill plans to use the bond money to acquire six properties totaling 94,870 square feet and a total of 13.8 acres.
"This [expansion] was part of the Goodwill Strategic Plan, which will be carried out within the next three years," said Scott Warren, chief financial officer for Goodwill Industries.
The properties include two acres for a 16,400-square-foot building in Henrico, 2.33 acres for a 16,200 -square-foot building in Chester, two acres for a 16,200-square-foot building in Chesterfield, almost three acres for a 16,200-square-foot building in Goochland and two others in Chesapeake totaling 29,870 square feet on 4.67 acres.
"We're working in conjunction with SunTrust Bank, and it's given us the capability to have access to tax-exempt financing," Warren said. ??The VSBFA assists small businesses through various financial programs and is reviewing Goodwill Industries' application for a tax-exempt industrial development bond. These bonds are available to nonprofit organizations and other manufacturing businesses for the acquisition, construction or expansion of manufacturing facilities.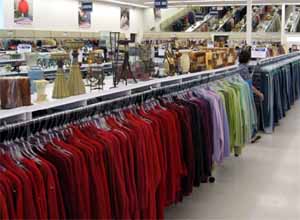 So why buy land for stores when there's plenty of vacant commercial space these days?
"Given the current real estate market, to build and operate a store is cheaper than most rents for already existing facilities," Warren said. He also noted that it was easier to acquire land and design buildings to meet the company's specifications instead of renting out a facility and making modifications.
For the bonds to be issued, Goodwill's application must be approved at a public hearing Wednesday at the Department of Business Assistance. The application would then have to be signed by the governor and allocated depending on the availability of funds. ??"It's a lengthy process, so we're just waiting to be approved at the hearing," Warren said.
Contracts for the parcels of land are still in the negotiation stages, and the company will be using several different commercial real estate brokers to deal with purchasing these properties because of their various locations.
If approved, construction for the stores would take place in the first or second quarter of 2011, Warren said. As is Goodwill's mission, the new stores will provide long-term employment opportunities for individuals who have trouble finding work due to a variety of disabilities or disadvantages.??"The stores each will place 20 to 30 people who are at a disadvantage of some kind in a job," Warren said.
"[Revenue from the stores] is also a source of cash flow to support our other services we offer to help people find work."
Goodwill Industries works to serve people with obstacles to employment through education, training and job placement services. Last year, Goodwill placed a total of 1,317 people into jobs in the central Virginia area at a wage of $12.28 per hour.
Goodwill of Central Virginia brought in $23.5 million in revenue from donated goods 2009, compared to $22.6 million in 2008.
The nonprofit's expansion isn't confined to Central Virginia. It will open its 11th store in the Hampton Roads area this week. It recently opened two stores in Williamsburg and Grafton and operates an outlet center in Virginia Beach. ??Goodwill Industries of Central Virginian has 22 retail stores with more than 800 associates and serves more than 22,000 individuals each year.