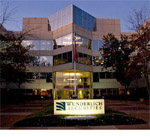 Two investment bankers have left a Richmond brokerage to launch the first Virginia office of a Memphis-based broker dealer.
Michael Mendelson and Clayton Jones left Anderson Strudwick and opened a small office this month in Innsbrook for Wunderlich Securities.
Before joining Anderson Strudwick, Mendelson and Jones worked together at Ferris Baker Watts, which was bought in 2008 by RBC Dain Rauscher.
"For us, the attraction was a big platform that includes institutional sales and a larger investment banking team and equity research support," Mendelson said.
Mendelson and Jones said they have developed a specialty in helping foreign companies that are going public sell shares in the United States. They also plan to help companies raise capital via IPOs or private placements.
In November 2009, they helped sell a Texas-based manufacturer to Markel Corp. You can read more about that here.
The twosome first met Gary Wunderlich, the head of the Tennessee firm that bears his name, when he came to Richmond to meet with Anderson Strudwick. At the time, almost exactly two years ago, Wunderlich was planning on acquiring Anderson Strudwick for about. $6 million (You can read more about that here.)
That deal was eventually called off, revived after the price was lowered and called off yet again.
"We met Gary when he came to do due diligence and was meeting with some of the brokers," Mendelson said.
"We got back in touch with Gary and found out that Wunderlich had already bought a few former branches of Ferris Baker Watts," which was their old firm before Anderson Strudwick.
"Wunderlich is on a nice growth trajectory, and it's nice to join an organization with a vision for growth," said Jones.
Wunderlich, who graduated from the University of Virginia, said that Jones and Mendelson have an expertise in dealing with companies the firm covers in its research division, which made for a good fit.
He also said he'd consider adding a retail adviser location in Richmond at some point.
"For now, [we want to] get feet on the ground. See what landscape looks like," Wunderlich said.? "There is no rush, though. If it takes years, that's okay, too."
Aaron Kremer is the BizSense editor. Please send news tips to Editor (at) richmondbizsense.com.