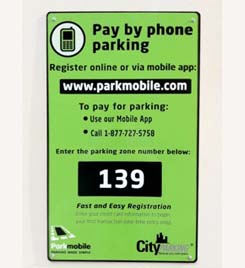 Technology has claimed its latest victim – those old-fashioned parking lot honor boxes.
Locally-based CityParking Inc. recently introduced a pay-by-phone system that allows driver to pay for parking in the company's downtown lots using a cell phone.
Lime-green pay-by-phone signs went up a couple of weeks ago.
"It's very convenient for people visiting downtown to pay for parking in the safety and comfort of their own car," said David J. Sharrar, president of CityParking.
Sharrar didn't discuss the financial details of implementing the new system, only that it was made possible through a partnership with ParkMobile, an Atlanta-based company that specializes in pay-by-phone parking technology
The honor boxes were a headache for operators, Sharrar said.
"Vagrants like to try and pick the money out of the slots and jam the locks," Sharrar said.
"In some cases, I have had to go looking for an honor box to find it down the block, looking as if it had a date with a crowbar."
CityParking's system works by allowing users to register on a website or download an application to a smart phone to pay for a parking space. Drivers can pre-register or show up to a pay-by-phone location and call to secure a space.
"You can register your vehicle in less than a couple minutes," said Sharrar.
The technology might even prevent the scourge of downtown parking tickets and towing. The system sends users text messages to their cell phone 15 minutes before their parking sessions end, giving them the option to pay for more time.
CityParking has a total of 2,900 parking spaces in 23 locations in the Shockoe Slip, Shockoe Bottom, VCU and Central Business District areas. The phone option will be available in nine locations and more than 700 parking spots. (See exact locations here.)
The technology might  also give CityParking a competitive advantage over its peers.? "People know where they're going, so it will reduce the driving time of looking for a space," Sharrar said.
Sharrar said the parking rates for using the technology are the same as regular parking, ranging from $3 to $5 per hour, up to $16 all day depending on the area. ??As for the honor boxes, the company isn't completely getting rid of them. But Sharrar said the pervasiveness of cell phones will slowly push the boxes to extinction.
"We won't take down the honor boxes yet, because people are used to paying that way," he said. "But eventually the old-fashioned way of stuffing quarters into an honor box will go away."