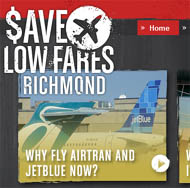 Discount airline Southwest is the new belle of the ball in Richmond.
Last week the Richmond airport and the Greater Richmond Chamber of Commerce rolled out the red carpet and announced a $600,000 marketing campaign to help promote the value of low-cost carriers AirTran and JetBlue.
Even with "Save Low Fares," as the campaign is being called, Southwest didn't get a lot of mention as the plan was unveiled. That's because Southwest doesn't fly out of Richmond.
But Kim Scheeler, president and CEO of the Greater Richmond Chamber of Commerce, said one of the main drivers behind the campaign is to lure Southwest.
"Part of what's driving this is Southwest merging with AirTran," said Scheeler. "Southwest is one of the airlines that a lot of markets go after and will try to throw money at them."
Southwest announced at the end of September that it wanted to buy Atlanta-based AirTran, which flies out of Richmond. Southwest does not fly out of Richmond and will likely assess the value of keeping planes at RIC post-merger. That has local airport officials pouring on the charm.
It's all part of getting a share of the "Southwest effect." The airport commission and Chamber's campaign has even devoted a whole webpage to it. "When Southwest enters a new market, there is a decrease in airfares and increase in air travel," the page explains.
Although Southwest's acquisition of AirTran is still pending, the local business boosters want to be ready. Southwest already flies from Norfolk, and AirTran flies from the Newport News airport.
"Part of this is – let's get ready for when that day gets here," Scheeler said. "Southwest is going to bring a more expansive network and more equipment. The more we can get those numbers up, the more likely that when Southwest comes here we can have a conversation with them."
The numbers to which Scheeler is referring are the claims that AirTran and JetBlue, the two low-cost airlines serving Richmond, are losing market share because of declining business locally.
Some local business people are wondering why the discount airlines can't just out-compete the legacy airlines and why the Chamber or Airport needs to get involved in the airline marketplace.
Scheeler said that legacy airlines are competing on price with the low-cost carriers to maintain market share, even if it means losing money for a while.
"The legacy carriers tend to focus on a market strategy and maintaining market share in an area, knowing long term they'll make it up," Scheeler said. "The others look at a pricing strategy."
Schiller said the big boys in Richmond — American, Continental, Delta, United and U.S. Air — often price their fares at a level where they're losing money locally to maintain market share with the goal of pricing the smaller competition out of the market.
At least part of the problem is also due to the economy and its effects on business travel, Scheeler said. Companies have cut down on business travel, and the Richmond region's recent loss of some major corporations (Circuit City, LandAmerica, S&K Menswear, Qimonda) have added to the decline.
"The corporate user is more what the airlines are looking for. Companies have cut back more on last-minute travel," Scheeler said.
Scheeler insists that the Save Low Fares campaign is less about specifically marketing for AirTran and JetBlue and more about educating the public about the effects that low-cost carriers have on pricing.
"They can and they're certainly going to market for themselves," Scheeler said. "Our message is a little different than that. It's an education campaign. It's not as direct as saying 'Fly JetBlue' to wherever."
Michael Schwartz is a BizSense reporter. Please send news tips to [email protected].