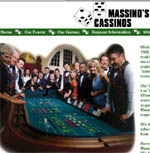 Two local companies have come together to provide the Mid-Atlantic with the ultimate casino party experience.
Magic Special Events recently closed on a deal to acquire Massino's Casinos. Terms of the deal were not disclosed.
Magic, which has been in business since 1979, is a full-service event production company that organizes weddings, corporate events and other functions. Among their offerings are casino games, which are common at fundraisers or corporate galas where party-goers can play games such as roulette and craps for fun and prizes, but not money.
Massino's specializes in casino parties, so with the acquisition Magic chief executive and founder Woody Thomas said he'll use the new company's resources to bolster that part of his business.
"They have a great staff that has been with them for years. Their equipment is first rate — some of it came directly from Atlantic City and Vegas. And we have their customer base now, too," Thomas said.
Massino founder Joe Massino will stay on and run the combined operations as a combined subsidiary owned by Magic.
Although Magic's casino business was primarily geared toward corporate events, Massino's business was concentrated in the nonprofit fundraising sector — which was a key selling point for Thomas.
"A lot of nonprofits dependent on corporate donations were cut back, so they saw an upswing in nonprofits looking for ways to make money," Thomas said.
Players at a fundraiser pay a certain amount to play the games. The big winners usually receive prizes, but no gambling actually takes place.
Meanwhile, Magic's corporate business had taken a hit.
"I call it the AIG affect," Thomas said. "The day the news story hit with AIG and the next day it came out they have a lavish party. The whole industry suffered from that point forward."
Since then, Thomas's luck has changed for the better.
"Companies are getting back into the swing of things, not in a [flashy] way, but they are spending money on employee functions, providing entertainment which is a good morale booster for small firms."