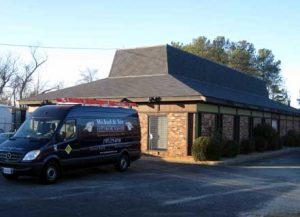 After testing the waters for the past year and half, a Northern Virginia-based service company is ramping up plans to expand its footprint in the Richmond area.
Michael & Son, which provides a range of residential services including plumbing, heating and air conditioning, just bought a retail building at 11016 Midlothian Turnpike.
"We love Richmond," said company owner Basim Mansour from his office in Alexandria.
The building will be home to Michael & Son's first physical location in Richmond, but the company has been taking jobs in Richmond out of an office in Williamsburg, Mansour said.
"We've had a tremendous amount of success in the last year we've been there," Mansour said. "We've been blessed in how well Richmond has accepted us. We are looking forward to the next two or three years of outgrowing the facility and moving on to a better, bigger location."
Michael & Son purchased the 4,000-square-foot building on Midlothian Turnpike, which sits on .67 acres, for $665,000. The building was most recently home to Royal Auto Brokers, and before that it was a restaurant called Filiberti's.
Mansour said the building will warehouse equipment and parts and also have a washing facility for drop cloths and uniform storage, as well as a front office and meeting space for customers.
"We just bought it last Friday and are doing some lipstick modifications to the place. We'll be in there by the 20th of December," Mansour said.
Mansour said he anticipates having 30 to 40 work trucks operating in the Richmond area and employ 50 to 70 people over the next three to four years.
Mansour inherited the business when he was just 19, after his father passed away in 1990 at the age of 47. Over the years, Mansour slowly grew the small electrical business into one of the largest service companies in Northern Virginia, performing 2,000 service calls a week.
Mansour said the secret is an extreme focus on customer service.
"We are bullish in a way that we are aggressive. I think we are delicate bulls, though, and what I mean by that is we are aggressive in business but delicate with the customer," Mansour said.

Al Harris is a BizSense reporter. Please send news tips to [email protected].