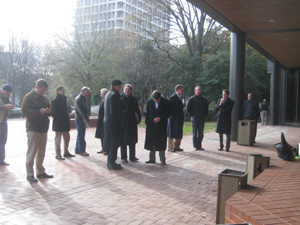 The foreclosure auction of a prime piece of Shockoe Slip real estate drew a large crowd of spectators and prospective bidders Friday morning, but there was only one winner.
And it wasn't the bank.
Jerry Cable, owner of the Tobacco Company restaurant, bid back and forth with Hilary Blanchard of Union First Market Bank to acquire the Commercial Block building at 1211-1217 E. Cary St.
The building was one of several properties taken back by the bank from developer Justin French after he defaulted on millions of dollars worth of loans. The auction was held on the steps of the John Marshall Courthouse and conducted by substitute trustee Jay Kepley.
The bank threw out the first bid of $2.87 million. The other registered bidders stood on the sidelines while Cable exchanged bids with the bank, ultimately winning the auction with a $4 million bid.
The bank had extended French a loan on the property of $4,559,500 on Jan. 11, 2008. The property is assessed by the city at $3,743,000.
After receiving a round of handshakes from the other bidders, Cable disappeared into the courthouse to complete the sale.
The approximately 47,000-square-foot building is home to several businesses, including the Urban Farmhouse Market & Café, Sweat and Razors, as well as office users on the upper floors such as the law firm of ThompsonMcMullan.
Prior to the auction for the Commercial Block, the bank was the sole bidder for two of French's other properties: The A.D. Price Funeral Home on Leigh Street, which the bank bought back for $1.4 million, and the industrial building at 1509 Belleville St., which the bank bought back for $575,000. Auctions for the remaining French properties in Union's portfolio followed the Commercial Block auction.
Al Harris covers commercial real estate for BizSense. Please send news tips to [email protected]