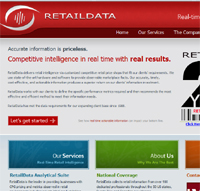 A local retail research and data firm is the latest company to be snatched up by Markel's investment arm.

Markel Ventures, a division of the locally-based insurance giant, announced yesterday it has acquired majority interest of locally-based RetailData LLC.
According to Markel spokesman Bruce Kay, financial specifics of the deal will not be released as RetailData is a privately held entity.
But Kay said the deal is in line with Markel Ventures' typical strategy.
"It's the same type of business we go after, a world leader in a niche market," said Kay.
RetailData, which is headquartered on Staples Mill Road and has 900 employees around the country, was started more than 20 years ago by Christine Cottrell. It provides what it calls retail intelligence for the retail industry including pricing research, audit services and merchandising strategies.
For example, the company has a team of researchers who go into supermarkets and record grocery prices. Supermarket companies then pay to see the prices at competitors' stores.
Cottrell, as is typical with Markel Venture deals, will likely stay on to continue to run the company under Markel ownership, Kay said.
Cottrell could not be reached for comment yesterday.
Kay said Markel was attracted to the company because it had solid cash flow, its own intellectual property, good growth potential and low levels of debt.
Markel Ventures provides what Kay calls "patient capital," by which it flushes its newly acquired companies with cash allowing for growth and to let the incumbent leaders run the business as usual.
Markel for now has only said it has acquired a majority interest in RetailData.
"There clearly is intent over a period of time for Markel to acquire 100 percent interest in the company," Kay said.
This is at least the fourth acquisition made by Markel Ventures this year, evidence that deal flow is on the rise, Kay said.
"I do know that deal flow has picked up since Markel has made it known that they are in fact in the market for long run specialty businesses," he said.
One such deal came earlier this year when it bought a stake in a local private equity fund that had taken over control of the distressed real estate project West Broad Village. You can read a BizSense story about that deal here.
Michael Schwartz is a BizSense reporter. Please send news tips to [email protected]