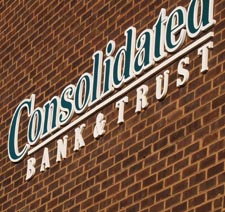 The deal that will do away with the historic Consolidated Bank & Trust name cleared several hurdles this week and is moving toward possible completion in the first quarter of 2011.
Consolidated Bank's parent company, Huntington, W.Va.-based Premier Financial Bancorp, said this week that it had received approval from several state regulators to merge five of its bank subsidiaries into one and then create a new bank brand, Premier Bank.
First announced in September, Premier's plan includes merging Consolidated, Washington-based Adams National Bank and two of its West Virginia banks into Boone County Bank, another West Virginia institution. Boone's charter will then be converted into Premier Bank, creating an $800 million institution with 22 branches across Virginia, West Virginia, Maryland and Washington.
Because its banks have branches in so many states, Premier must receive approval from regulators in each state. According to Premier chief executive Bob Walker, the company's plan was approved this week by the Virginia Bureau of Financial Institutions and regulators in West Virginia. Walker said it is waiting for approval from the regulators in Maryland and Washington and for federal approval from the FDIC.
"It's a complicated process," said Walker. "But we do anticipate getting it all done."
Walker said Premier is aiming for the deal to be complete sometime in the first quarter of the new year.
From there the company will launch its rebranding and marketing campaigns to get the word out about its new bank.
The Consolidated name will come down from its two branches, Walker has said, including its Richmond headquarters at First and Marshall streets and in downtown Hampton. They will be rebranded as Premier Bank.
It will be the final blow to the Consolidated name, which has a deep history in Richmond.
The bank was founded as St. Luke Penny Savings Bank in 1903 by Maggie Walker, the nation's first female bank chief and the first African American woman to run a bank. Prior to being acquired, Consolidated was also at one time was known as the oldest continually African American operated bank in the country.
But the bank has been in jeopardy for some time.
Trouble began when the bank was almost shut down around 2005 and was subsequently acquired by Washington-based Abigail Adams National Bancorp. Adams kept the Consolidated name.
Then last year Adams ran into hard times and had to be bailed out by Premier.
Consolidated, which has slightly more than $70 million in assets, has been profitable of late. But it has also been battling one of the highest percentages of non-performing assets in the state.
Read more about the bank's history and Premier's plan here.
Michael Schwartz covers banking for BizSense. Please send news tips to [email protected].