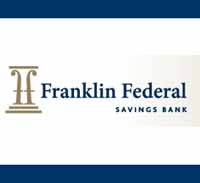 A $120 million value has been set on a local bank's planned stock offering, and depositors and employees get first dibs.
If all goes as planned and Franklin Federal Savings Bank goes public, the move will help satisfy the bank's apparent appetite for growth by giving it some fresh money to play with. It has been blocked from acting on those impulses because of its status as a mutual savings bank.
BizSense first reported on Franklin Federal Savings Bank's plan to convert into a stock-owned company in late October. (Read the original BizSense report here. )
Mutuals, unlike most other banks, don't have the ability to sell stock and therefore don't have shareholders. They instead have members who are considered owners of the bank based on the deposits they have in the bank. Mutuals are also limited to deposits and income as their means of capital (which means that, without the money from a stock offering, acquisitions are cost-prohibitive).
The offering filings also shed some light into the inner workings of the bank, including the salaries of its top executives.
According to the filings, Chairman, President and CEO Richard Wheeler received $423,000 in total compensation in 2010: a $231,600 salary, an $11,580 bonus, a $177,000 increase in the value of his pension and $2,400 for a company car and dues to the Commonwealth Club.
Four other top executives were paid an average of $222,000 in 2010.
Shares of Franklin Financial Corp., as the new holding company is to be called, will first be offered to Franklin Federal depositors who had $50 or more in deposits as of Sept. 30, 2009.
Next, shares will be offered to Franklin Federal's employees through an employee stock ownership plan.
The company directors and executive officers are expected to take 418,000 shares for $4.18 million. Wheeler is expected to buy 100,000 shares for $1 million. Directors and officers will pay the same $10 per share price as everyone else.
Depositors with $50 or more as of Dec. 31 will be offered any remaining shares. If any shares remain beyond that, other customers of the bank and then the local public will have a chance to get in on the action.
Although an exact number won't be known until the offering, conversions such as this typically leave plenty of shares available for the public to buy, according to Tom Tullidge, an investment banker at Cary Street Partners.
"They do like to have the public come in and buy some shares, because that creates a market for the shares," said Tullidge.
In addition to rewarding its loyal depositors, the bank has said it wants to raise capital through this offering for expansion.
The $971 million bank will offer up to 12.07 million shares and must sell a minimum of 8.92 million shares to complete the offering. It said it intends to pay a quarterly cash dividend of between $0.07 and $0.10 per share in the first year after the offering.
The company will also give 3 percent of the shares to its charitable foundation, the Franklin Federal Foundation.
There are more interesting tidbits that were discussed in the filings, including how the bank, like many of its peers, was hit by a reliance on construction and land development loans.
The bank's non-performing asset levels rose over the past few years from a low of 0.07 percent of its total assets in 2007 to a high of 4.26 percent of assets at the end of fiscal 2010.
Franklin Federal had $41.3 million in total non-performing assets, including $11.6 million in foreclosed properties.
The bank revealed that its largest non-performing loan was $11.4 million it was owed on a 257-acre mixed-use development in Charlottesville. It has also foreclosed on dozens of undeveloped lots owned by Midlothian-based homebuilder Tomac Corp. Read more about that here.
The filings also show some of the hits the bank took on investments that went sour. It reported losses on stock it owned in now-defunct LandAmerica, the struggling Glen Allen parent company of Essex Bank and the Norfolk-based parent of Bank of the Commonwealth, another troubled institution.
Conversion rules will prevent Franklin Federal from being acquired for a minimum of three years after it converts.
The bank declined to comment, citing a mandated silent period. A date for the offering has not been released, and the offering is dependent on approval by the Office of Thrift Supervision and other approval by the SEC.
Franklin Federal was founded in 1933 as Federal Savings and Loan of Sandston and eventually took its current name after it moved to Franklin Street downtown. It has eight branches including its corporate headquarters in Innsbrook.

Michael Schwartz covers banking for BizSense. Please send news tips to [email protected].