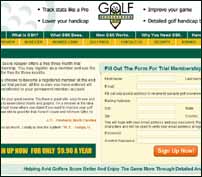 Golfers can now spend less time filling out a scorecard — wondering why the shots are accumulating so quickly — and more time trying get that slice under control.
And for a local golf pro, what began as an MBA class assignment might have legs as a new business venture.
Ralph Reahard, a pro at the Foundry Golf Club in Powhatan, recently launched Golfscorekeeper.com to allow golfers to keep detailed statistics about each round.
Reahard invested about $1,500 in the business.
Members can enter unlimited courses and rounds, track their scores, and identify and track their handicap. Users can also keep track of more detailed aspects of their games, such as puts or fairways hit per round.
"Serious players and casual golfers keep handicaps, it's important to know [your] handicap for competitions," said Reahard.
A subscription costs $9.90 a year, and a three-month free trial membership is available. The startup has about 19 paid subscribers and 50 using the trial membership. Reahard said he sees the concept expanding.
Most of the site's traffic has been through word-of-mouth and Facebook ads, but Reahard said there's a huge market for this online database.
He said 40 million people in the United States play golf, and 6 million play 25 rounds or more per year.
"The end goal is to capture 1 to 2 percent of the avid golfer market, which is around 100,000 users," Reahard said.
He first took on the venture as part of a project for an entrepreneurial class at the University of Richmond's Robins School of Business. Reahard, 29, presented the assignment as part of his MBA studies.
His professor, the Robins School's Jeffrey Pollack, suggested he pursue it.
"I am very excited about the work Reahard is doing. I really appreciate both the economic (money-making) side of the business as well as the social (helping people achieve their goals) side of the business," said Pollack.
Reahard later introduced it to his students at the golf club, having them post scores to get a feel for how the site would work.
"I was looking for a way to create a platform for my students to track their progress over time," Reahard said.
"I had the idea a few years ago, and we played around with database management and what looked good."
A mobile app is in the works so golfers can track their stats with any smartphone. For an extra fee, players can load information from their course list and enter hole-by-hole data as they play.
"Within a year, we're trying to get that up and running," Reahard said.
There are similar sites, such as keepmyscore.com, and NCG's Golf Handicap Tracker and Statistics Tool, but Golfscorekeeper is a little different, according to Reahard.
"It's more in depth, and there's easier functionality and usability."