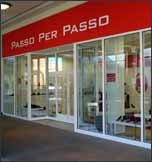 An out-of-work architect has turned her love of shoes into a livelihood and brought a taste of Italy to Richmond.
Anja Buecheler, a native of Germany, recently opened a Short Pump location of Passo Per Passo, a high-end shoe store based in Switzerland.
Located at Short Pump Town Center, Passo Per Passo, Italian for "step by step," sells 10 kinds of shoes for men and women and 15 handbags that are all made in Italy.
Buecheler has been living in Richmond for five years and first found the Swiss store on a shopping trip three years ago when she was visiting family.
"A friend took me to the store, and I loved the shoes," Buecheler said.
Two Italians started the company in 2003 and manage 11 boutiques in Lucerne, Switzerland.
Before pursuing her love of shoes as a career, Buecheler worked as an architect in Richmond until June, when she lost her job.
"The economy was so bad, I couldn't find a job, so that's when the business became more serious," Buecheler said.
She visited the Swiss boutiques again in September and struck up a partnership with the owners.
"I basically called them out of nowhere and talked to them about bringing the store to the U.S," she said. "They were open to the idea."
It took about three months to redesign the store and have the shoes shipped from Europe boutiques and about $75,000 to get the venture off the ground.
Although there's plenty of competition, particularly in Short Pump, Buecheler sees a need in the Richmond area for high-quality products.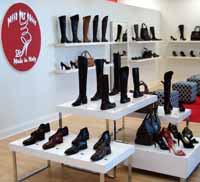 "There are all these shopping malls where you can get things cheap, but the quality is just not as good in the U.S.," she said, adding that quality shoes in Richmond are mostly designer brands, which are out of most people's price ranges.
"You're talking $400 and up," she said. Her shoes range from $140 to $309.
Buecheler said shoes are a good investment.
"It might be a little more expensive, but you're getting a better quality shoe."
Before opening in November, she brought over 580 shoes from the Swiss stores to fill her shop. And so far it seems to be working.
Since opening, Buecheler says, she sees about 50 customers per day and more on weekends.
"The men are willing to spend more money and seem to be going for quality, while the women go for the look," she said.
"We've already had people coming to buy their second or third pair of shoes."
To get the word out, Buecheler has set up a Facebook page where she offers coupons and has sent emails through Short Pump's E-club.
After things slow down in January, Buecheler wants to get a website up and running and is floating the idea of expansion, although it all depends on the success of the first store.
"We're looking to go into Northern Virginia," she said. "There's a big market for us."