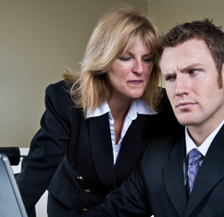 This story first ran in June, but it got a great response, so we're running it again here:
Here's the long and short of it: BizSense has been compiling a list over the last few weeks of overused clichés from the business world – those terms or phrases used so often we don't even question whether their definition is appropriate for that situation.
The motivation behind this was partly because it makes us cringe when we hear them and chuckle because we all use them. Using clichés are like picking your nose; everyone does it – just some more grossly than others.
We tried to narrow the list down to 10 in no particular order in hopes that they'll be retired from use. Admitting you have a problem is always the first step to recovery.
Now if you realize as you're reading this that you are guilty of using some of these clichés, don't feel bad. A cliché isn't a cliché unless everyone says it. Going a day without dropping a cliché is so difficult, it may even be next to impossible to get through writing this brief story without one showing up. We'll try to catch them when they occur.
Now let's get down to business. See – it's not that easy.
1. Game changer – We don't want to kill anyone's entrepreneurial spirit – but not every new product or service or company is a game changer just because it's new. The iPhone, at the end of the day (cliché alert!), is still a cell phone. The first cell phone was a game changer. And does it bother anyone else that everything Steve Jobs does is labeled a game changer? Even wearing a black turtle everyday of his life has become a cliché.
2. Painted with that brush – Don't you hate when someone tells you they don't want to be "painted with that brush." Don't you just want to actually douse them with paint when they say that?
3. Win-win – No matter how much you sugarcoat a deal, one party wins and one party loses. Someone spends money and someone receives money. There is always a winner and a loser. Some people are just bigger losers than others.
4. When the rubber meets the road – One free drink for anyone who can define this cliché and give us a situation when it's appropriate to use it. If you can't seem to stop using this phrase, watching this video is an effective treatment.
5. Perfect storm – That movie with George Clooney dying on a fishing boat with Marky Mark is partly to blame for this cliché's popularity, which was based on a book of the same name by Sebastian Junger. Since then it has been used to describe any mundane coincidence. Can we toss this one overboard already?
6. Personal brand – You're nobody these days unless you are building your personal brand. Here's the ultimate personal branding question: Have you trademarked your name yet? That's taking it the next level (cliché alert!)
7. Share the same values – You hear this one a lot when companies merge. Just come out and admit the common value is usually the desire to make more money. That's why businesses exist. Just come out and say there was a financial benefit for one or both parties.
8. Low hanging fruit –This often has a negative connotation because it's viewed as taking the easy way out. But isn't going after the most readily available means of sustenance just called survival? Getting the stuff higher up in the tree is just icing on the cake (cliché alert!). How come no one goes after the high-hanging fruit? Lazy bums.
9. Core competencies – We dream of a day when a corporate employee manual will include at the top of its list of core competencies a mandate to never use the term "core competencies" again. In its place I suggest saying "stuff we do well." It's particularly rough on the ears when paired with a "leverage", as in, "Let's schedule a meeting to discuss how we can leverage our core competencies."

10. Time to walk the walk – This cliché should be retired by law in accordance with the Americans with Disabilities Act.
Honorable mention (many sent in by loyal RBS readers).
Circle back with me
Sphere of influence
Monetization
Out-of-pocket
A good problem to have
Price point
Leverage your creative capital
Skin in the game
Feel free to add more in the comments below.