The views expressed in Guest Opinions represent only those of the author and are in no way endorsed by Richmond BizSense or any BizSense staff member.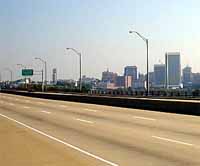 You're going to hear these words a lot next year: Job creation. Trade. Home building. Other topics related to construction. I think the term is "starts," or something like that. I don't really know. I don't work in real estate.
But these are the stories you'll read about in the coming year throughout Richmond. And sure, jobs and homes and construction are important, each a leading indicator of the overall health of the local and national economies. Also important are hot dogs, because they're really delicious.
As we move into 2011, let us not forget some other business trends that would make Richmond a better place to live, work and play. And eat. Here are 10 trends that I'd like to see this year.
1. Some light commercial along the Lee Bridge
One of the best views in Richmond is on the Lee Bridge. Problem is, you drive over it way too fast to really appreciate the panoramas. This magnificent expanse over the James River could benefit from a hot dog stand, or perhaps a few boutique shops along the shoulder to let people stop and take it all in. Maybe there could even a 50-mph burger drive-through for when you get hungry on the trip across but don't have time to stop.

2. A law firm that doesn't use names in its title
Any new law firm coming into Richmond needs to think different and come up with something more creative than the standard Lastname1Lastname2Lastname3 LLP.  It's time law practices get cooler names, like Rocket Launcher Law. Unless the attorneys' names happen to be Rocket and Launcher.

3. Martin's employees toss the green shirts
Look, everyone's got an opinion on the Ukrop's transition. But we can all agree that Martin's needs to ditch the watermelon green shirts that employees are required to wear. Furthermore, I think we can all agree that the shirt employees should wear instead is that black one with the three wolves on it.
4. Joy rides on the VCU Medical Center chopper
Have you ever seen that thing fly over the city? It looks like so much fun, and what a view! VCU should open its air ambulance to the people during the helicopter's downtime, charge five bucks and perhaps use the money to allay health-care costs. Maybe they could even let you shoot rocket launchers from the helicopter for an extra $10.
5. More burrito places
There is no reason why I should have to walk three whole blocks to find the nearest burrito joint. More burrito places means less walking, and less walking means less exercise and less exercise means more time to eat burritos.
6. Build the Burj Khalifa here
Have you seen that building in Dubai? It's insane! Richmond could benefit from having a skyscraper that big, only ours would be slightly taller because our antenna would be built an inch higher. Richmond would be all over the news. People would travel from far and wide to see the tower, learn about the Civil War and visit our many burrito establishments.The downside: We have a lot of commercial vacancies in town as it is, and, like I said earlier, I don't know much about real estate, so you probably shouldn't listen to me. Still, consider the bungee jumping opportunities.

7. Tobacco companies buy back all the warehouses
Perhaps 2011 will see a resurgence in tobacco use, and Philip Morris and others will need a place to make more smokes. So they'll buy back all their old warehouses along Tobacco Row for prices developers can't refuse, and maybe offer all the folks who live and work down there minimum wage jobs as cigarette rollers.

8. Release of the Justin French video game
With "sandbox-style" play similar to Grand Theft Auto, the Justin French video game — tentatively titled Real Estate Crimes — will have a plot that is practically incomprehensible to follow unless you understand development stuff: characters in fashions that are a bit too extravagant for Richmond tastes and tons and tons of hair gel. Also, the main character is armed with a rocket launcher.
9. A business that offers, like, trampoline rooms
Bear with me here, but how neat would it be to take one of those old warehouses and convert it into a big playhouse? There would be one room where the entire floor is a trampoline, a roller coaster, an Xbox with a 15-story TV screen, real live dinosaurs and all the free candy you could want. Oh, and there's like 80 beer taps, too. And it's all free.
10. A business story about the real estate market, jobs or Twitter, or an article that lists things
Because there can never be enough of them.