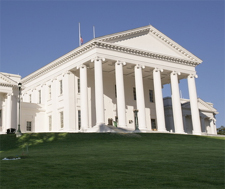 The 2011 Virginia General Assembly session kicks off next Tuesday, and lawmakers are busy filing bills they hope will become law.
Once again, BizSense will provide coverage of the session by way of the Capital News Service.
In the meantime, here are five bills that could affect your business if passed. You can read more about them and follow their progress through the legislative process at Richmond Sunlight, a free database that tracks the General Assembly.
House Bill 1509: Employment; prohibits discrimination based on sexual orientation.
Introduced by Jim Scott (D-Merrifield)
This bill would add sexual orientation to the list of classes protected from employment discrimination, which currently include, among other things, race, color and religion. Similar bills have popped up in previous General Assembly sessions without success. With the recent reversal of "don't ask, don't tell," this year's attempt might have a bit more momentum than in years past. On the other hand, with Republicans in control of the House of Delegates, passage is still an uphill battle. A companion bill, Senate Bill 747, has been introduced by Sen. Don McEachin (D-Richmond).
House Bill 1447: Income tax, state; research and development expenses tax credit.
Introduced by Ben Cline (R-Amherst)
One of the first bills to come along this session is aimed at beefing up incentives for business. The bill would allow for income tax credits for individuals and businesses for qualified research and development expenses for five years starting in 2012. The credit is equal to 15 percent of qualified expenses or 20 percent if the research is conducted in conjunction with a public university or college in the state. The total amount of credits available is capped at $10 million a year.
Senate Bill 795: Foreclosure procedures.
Introduced by Don McEachin (D-Richmond)
You've heard the horror stories about banks foreclosing on homeowners who are current on payments and in some cases own the house outright. This bill seeks to put a stop to that by making the banks dot a few more i's before they can foreclose. The bill would require additional documentation proving that the beneficiary has the right to request foreclosure, alter requirements for notification and impose additional duties on the trustee.
House Bill 1504: Insurance companies; investments in derivative transactions, etc.
Introduced by Lee Ware (R-Powhatan)
Credit default swaps are so 2008, but that isn't stopping Del. Lee Ware from introducing a bill that would increase oversight of how insurers deal with derivatives. Under the proposed bill, insurers would have to establish written guidelines on how they handle transactions involving derivative instruments that include options, warrants, caps, floors, collars, swaps, forwards and futures.  Those plans must be approved by the State Corporation Commission, and the bill also gives the SCC the power to adopt new rules and regulations regarding derivative transactions.

House Bill 1498: Plastic bags; use by retailers
Introduced by Onzlee Ware (D-Roanoke)
Here comes another attempt to ban plastic bags from retail stores. Last year, bills attempting to ban or tax plastic bags were withdrawn under pressure from, you guessed it, the plastics industry. The latest bill seeking to ban bags allows for them to be provided at the point of sale only if they are specifically designed and made for multiple uses, have handles and are at least 2.25 mils (1 mil=1/1000th of an inch) thick.
Virginia has resisted regulation of plastic bags in the past, but the state's neighbors have not. Washington has imposed a five-cent fee on bags to benefit a river clean-up fund, and bags have been banned in the Outer Banks. Meanwhile in the Old Dominion, the City of Roanoke recently approved a measure urging its state representatives to introduce a bill that would give localities the power to tax or ban plastic bags.