In the face of skepticism and on shaky legal ground, controversial Internet sweepstakes cafes continue to roll the dice and open locations in storefronts across Richmond.
What began with Lucky's Sweepstakes on Hull Street in September has spawned a dozen or so similar establishments where customers play casino-style computer games. And there are more on the way.
"These places are popping up everywhere," said Holden Barnes, the store manager at VSF Sweepstakes Redemption Center, which opened a few months ago at 4501 W. Broad St.
VSF and its peers operate in a gray area of gambling law. Customers add money to swipe cards for Internet time and then sit down at computers loaded with casino-style games such as slot machines and poker. The purchase of the swipe card also buys them into a sweepstakes. Virginia law differentiates between a sweepstakes with predetermined odds and games that rely on the operator's skill and luck.
"We're not a gambling facility," Barnes said, adding that customers purchase Internet time on the computers.
If during their Internet time customers play some of the games, which have predetermined odds, that's their decision, Barnes said.
"I really don't see an issue," he said. "It's entertainment for people."
VSF, which is just up the street from the Colonial Downs off-track betting center, is advertising its newest location at 3907 Hull Street Road. It has another in Hopewell. The Florida-based company that owns VSF has plans to open several other locations across Richmond, Barnes said.
Lucky's, which BizSense first reported on in September, has already moved to a larger location in the same shopping center to handle the brisk business. It also just opened a location in Petersburg.
Barnes said several competitors have opened nearby, including another off West Broad and one on Jefferson Davis Highway. Another is opening in the Southside Plaza shopping center across from the Lucky's Hull Street location.
And a sweepstakes cafe is coming to downtown, according to a help wanted ad on Craigslist. The ad says it will be called Netzone 777, but an exact location isn't listed.
Attitudes in the commercial real estate community and among property owners seem to be shifting as well.
Back in September, local commercial real estate brokers were skeptical about the influx of interest from sweepstakes owners looking at Richmond.
Just a few months later, according to Brian Glass, a senior vice president with Grubb & Ellis|Harrison &Bates, shopping center owners are questioning whether to lease to sweepstakes cafes, mostly because their legal status is up in the air.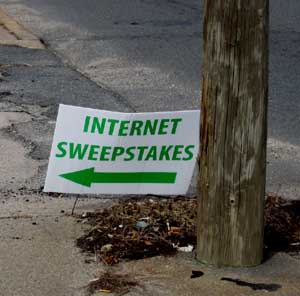 "We're seeing [an increase in sweepstakes cafes], but we're also seeing that there's a lot of skepticism on the part of owners," Glass said. "There's an undercurrent that the state legislators might take some action to ban them, similar to what happened in North Carolina."
The owners of the sweepstakes shops are well aware of their uncertain future. Barnes said he and VSF's owners know of the stigma attached to their business. They're keeping a close eye on the new General Assembly session, as it is rumored that bills will be introduced pertaining to the legality of their business.
Glass said the sweepstakes owners are asking landlords for leases that allow them to get out if the law changes.
So for now the games go on, but those changes could be coming any day.
In late September, BizSense spoke with Harvey Bryant, the commonwealth's attorney in Virginia Beach, where police raided about a dozen sweepstakes parlors last year.
Bryant said in September that he's willing to bet that the games being played at sweepstakes locations in Richmond and elsewhere are almost identical to those in the raided Virginia Beach shops.
"There will be legislation introduced at the next General Assembly, some to open it up more, some to shut it down," Bryant said. "It will be interesting to see which prevails."
As of yesterday, no bills pertaining to sweepstakes cafes had been introduced in the 2011 GA session.
Another scenario that could play out is to simply regulate these Internet cafes, similar to other forms of legal gambling in the state.
"Other types of legalized gambling in Virginia are highly regulated; horse racing, charitable gaming, the lottery," Bryant said. "There's nothing overseeing Internet gambling."
Michael Schwartz is BizSense reporter. Please send news tips to [email protected].