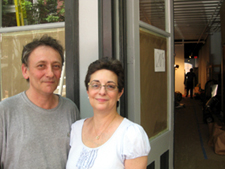 A year-old French restaurant in Shockoe Slip has changed its name.
Bouchon officially became Bistro Bobette as of December 31, 2010.
"New name. Same owners. Same passion for good food," said Wendy Kalif, co-owner of the downtown restaurant.  "Nothing but the name will change."
The name change came about because the owners wanted to differentiate themselves better from a handful of other restaurants around the country that also have Bouchon in their name. Bouchon is French for a cork, but also can refer to a traffic jam as well.
As to what a Bobette is, you'll have to ask the restaurants other owner and executive chef, Francis Devilliers.
From the restaurants announcement regarding the name change:
The restaurant's new name, Bistro Bobette, has significant meaning for French-born Devilliers, as it represents a family memory that he encourages patrons to personally ask him to explain over a glass of wine the next time they visit 1209 East Cary Street.
For more on the story behind the restaurant, check out this story BizSense wrote back in in the summer of 2009.