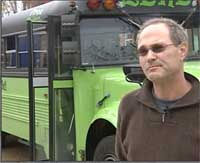 One bus, two bus, three bus, four.
It took Richmonder Jim Porter about 18 months to get To the Bottom and Back (2BNB) up to four buses, shuttling partygoers in Richmond. And now he wants to add a tourism-focused bus.
For now, the four lime green and black buses pick up students and bar-hoppers in Carytown, VCU, the Fan, Shockoe Slip and Shockoe Bottom Thursday through Saturday from 6 p.m. to 3 a.m. (You can read more about the service in RBS stories here and here.)
BizSense caught up with Porter to find out why he's so passionate about transportation and to see how business is going.
Below is an edited transcript.
Richmond BizSense: Are passengers usually pretty friendly?
Jim Porter: Oh, yeah. They dance and cheer and wave us down when they see us coming. You're getting a free ride downtown. When you take someone home and they're not driving, they're very appreciative.
RBS: Was it an idea that was in the works for a while?
JP: I've always had a love for tourism. Until I was 18, I used to travel with my grandmother with her company Jay Bird Tours, and we used to take people to different places. When I was growing up, my dad had a Winnebago, and I used to take him and his friends around on trips. My parents used to party, but he always pushed designated driving. Drinking and driving was a huge thing with my dad.
RBS: What motivated you to start your own service?
JP: In 2007, I was on my way to my son's graduation in West Virginia and was struck by a drunk driver. Before that I was in a car accident in 1998, when I moved back to Richmond from Chicago, which left me paralyzed for a year. If I wasn't wearing my seatbelt, I would have been dead.
RBS: How did you go about getting it up and running?
JP: I had been trying to make something happen with the city of Richmond for a number of years. I took a business proposal to a board member in the early summer of 2009 and initially was going to charge 50 cents or $1.00, but when you charge, you have to register your stops — there's a lot of red tape to go through.
RBS: So that's why you decided not to charge anything?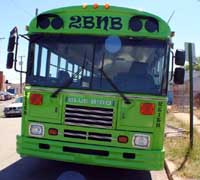 JP: It's the only way I could have done it.
RBS: How many people are usually on the buses?
JP: We pick up over 3,000 per weekend.
RBS: How was New Year's?
JP: It was awesome. Everyone was dressed nice; there was a good vibe that night. Last year was a lot of fun, too. The crowds are great. When we first started, there were a few who acted a little rowdy, but for the most part everyone is having a good time.
RBS: We've covered the conflict you had with the taxicab companies. What's the latest on that? Have they had anything to say about it?
JP: I'm not taking all of their business, maybe some. A few $7 fares. Actually, I went to the cab companies when I started to try and team up. I wanted to get their numbers on the side of my buses, but [they weren't interested].
RBS: How much does it cost to keep the buses running?
JP: It's about $50 in gas a night. We go around the loop 10 times and usually fill up the buses seven times. It costs about $1,300 a week to run one bus, and that covers insurance, fuel, driver pay, host pay and maintenance. I paid $2,400 for the first bus, $3,000 for the second, $3,000 for the third and then $1,600 for the fourth.
RBS: So since you're a nonprofit, where does the funding come from?
JP: We have a lot of sponsors, around 20 so. Most of the funding comes from donations from them.
RBS: What are your plans for 2011?
JP: I really would like to have a focus on the tourism route. People that are coming to visit the city, it can generate a lot of money. As for the routes, I'd like to have one from the 14th Street bridge into the bottom and over to Manchester and Church Hill. I also want to put another two buses on Broad Street. I try and think, "How would I want to ride this bus if I was a passenger?" That's how I run it. It's our key to success.
RBS: What's the deal with the lime green and the black for the buses?
JP: I kind of stole the color scheme from Carytown. I liked the colors of Ellwood Thompson's grocery store. I wanted to have an edge.
RBS: What's the funniest part about your job?
JP: People hugging you at night. Sunday morning I'll get calls from parents and thank you letters. It's amazing. Also the people that you meet who want to get involved is cool. There are so many people that want to make a difference in Richmond. We're moving a lot of people around the city and definitely making a difference in drinking and driving.