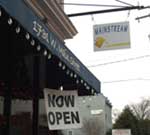 After a career in manufacturing, a New Yorker-turned-Richmonder is trying his luck in the restaurant business.
Mike Farley opened his first restaurant, Mainstream, in November on West Main Street in the Fan. And although business isn't yet booming, Farley hopes the eatery can live up to its name.
"It's wintertime, so it's been a little slow, but I'm optimistic," Farley said. ??Farley, 55, came to Richmond via Long Island in the summer of 1994, after being laid off from aircraft maker Grumman, one of the predecessors to defense giant Northrop Grumman.
"They were bought out by Northrop and laid everyone off," Farley said. "I was one of thousands that lost his job."
Once in Richmond, he spent his time working for JW Fergusson Son's, a commercial printing services company, Dominion Windows Company and other local manufacturers before deciding to try something new. ??"I had the planning and purchasing experience, and that's basically what I do here except with food," Farley said. "So I figured I'd give it a try."
After seeing an ad in the newspaper for a vacant restaurant space, Farley jumped at the chance. Within six or seven weeks, he had Mainstream up and running in the spot previously occupied by Plaza Mexico, which closed in March.
He invested about $98,000 to spruce the place up, and after barely two months in business he's focused on getting Mainstream to stand out in the competitive Fan restaurant scene.
On the weekends – his busiest times – he brings in musicians and does karaoke.
"I'm hoping to get more of the neighborhood in this place," said Farley. "I want to serve them good food, good music and cold beer."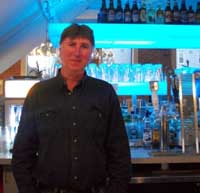 Mainstream serves appetizers, salads, wraps and sandwiches for under $10 and has a dinner menu for under $15. Farley added a brunch menu for Saturdays and Sundays.
"During the week, we have music pumping and the football games on," he said. "I think with adding more live music things should pick back up soon."
To help spread the word, he advertised in Style Weekly and recently made a Facebook page. ??He's working on having a website put together by the end of the month.
As for leaving the Big Apple: ?"I don't regret it all. I'm happy where I am."