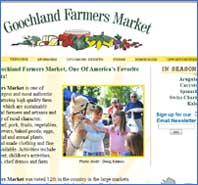 Not all the drama happens in downtown boardrooms.
The executive director of a small farming nonprofit in Goochland says she has been ousted after speaking out publicly about how the board of directors handles the money.

Lisa Dearden was executive director of the Center for Rural Culture until last week. The organization, which operates on a $100,000 annual budget, provides educational programs for farmers and runs a popular farmers market in Goochland.
Dearden said she was called into a meeting with the CRC board on Jan. 7, and walked out a few minutes later — without a job and in shock.
"The board handed me a letter saying they accepted my resignation immediately," Dearden said by phone just after the meeting. "But I didn't resign."
That was two days after Dearden sent out a letter to thousands of the group's supporters  describing how she was denied access to CRC's books and how she demanded an independent audit to help clear up an alleged $30,000 discrepancy.
"I am writing to you all to inform you of important event which will affect the future of our center and its mission," Dearden wrote in the letter.
The letter also gave an ultimatum: "This situation is untenable and my letter to the board demands the release of the CRC's records for an independent CPA full audit. In addition, I no longer have confidence or trust in the board's current and past presidents or the treasurer and I have asked for their resignations.
"Should my demands not be met, I will be resigning as executive director of the CRC effective January 31, 2011 and handing the matter over to law enforcement."
The board apparently called her bluff on the threat of resignation.
The board released a brief statement in response:
"In light of the gravity of the allegations made by the executive director against specific members and the board as a whole, the Center for Rural Culture Board of Directors is taking action immediately to resolve all issues relating to its financial records.
"To that end, the Board is investigating the allegations and has sent its records to a CPA firm outside of Goochland County for resolution of the matter. The Board is unaware of any misappropriation of CRC funds. The Board intends to publish the findings of the CPA firm as soon as available."
Dearden, 50, has been executive director of CRC for three years. During that time, she claims the board has never given her access to the books its treasurer keeps, despite repeated pleas.
Pressure mounted especially after Dearden said she found a $33,000 discrepancy in the treasurer's report in November compared with the books she keeps on her own. Dearden said she was forced to keep her own ledger of the growing organization's finances.
Dearden said she put out the letter as a sort of last resort in an effort to put pressure on the board members. But despite messages on the CRC Facebook page in support for Dearden and demanding a response from the board, the board remained silent on the issue until it  released its brief statement yesterday.
Repeated messages left for several CRC board members to discuss the issue were returned over the past several days.
As for the mention in the letter of getting the law involved, Dearden said she has consulted a lawyer. But she insists she not accusing anyone of anything illegal.
"I'm not saying there's money missing or misappropriated," she said. "I'm just saying there are discrepancies that need to be accounted for. We need to have accurate books, and the executive director needs to have access to them."
William F. Etherington, an attorney with Beale, Davidson, Etherington and Morris who represents non-profits, said it is unusual for a nonprofit executive director not to have access to an organization's books.
"That would strike me as being odd, assuming that that's true," said Etherington. "You're paying the executive to run the day-to-day operations of the organization. Part of the job of the executive director is to make sure the finances are in order."
"It's not generally a board responsibility to run the day-to-day operations of any association."
But Etherington also said that an executive director typically serves at the pleasure of the board. And Dearden's move to make the matter public is not something Etherington said he would advise.
"I can't opine on whether the books were kept correctly or incorrectly, but if she wrote a letter like that, it's not surprising the board would react like that," he said.
Meanwhile, Dearden has had her hands tied. After her ouster, she was also forced to turn over her keys. So in effect, CRC is without an executive director. And Dearden said that doesn't bode well for the organization.
"If I were to leave the organization, it would fall apart at this point. I'm not saying I'm indispensable … They [the board] don't even know how to log into the computer."
She says she just wants answers and to get back to work.
"It's really, really sad, because a lot of people depend on us for their livelihood," she said. "I'm fighting for those farmers out there, those little guys that depend on us."
Michael Schwartz is a BizSense reporter. Please send news tips to [email protected].