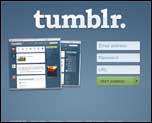 Richmond's media class rejoiced upon news that Tumblr, a rapidly growing blogging platform, was opening a small office here.
There are more than 12 million blogs in the Tumblr domain, and the New York-based company recently closed on a $30 million round of venture financing.
The Richmond office is home to the company's community support staff, which was already based here but with the employees working from home. Also in the new Tumblr office – in the Corrugated Box Building in South Richmond – are mobile developers who created the first Tumblr application for iPhone.
David Karp, the 24-year-old founder and CEO, was in town last week to survey the new digs. BizSense sat down with him to talk about the company and how the Richmond office came to be.

Below is an edited transcript.

Richmond BizSense: What is Tumblr exactly for those that don't know?

David Karp: It is blogging without a big empty text area. A big empty text box is the most discouraging thing in the he world if all you want to do is share a quote or a link or a funny video you just watched. Tumblr was an attempt to move away to create something that is easy to share this stuff.

RBS: How did this Richmond office come to be?
DK: We've been incredibly lucky to find some extraordinarily talented peopled all over the world. Marc LaFountain [who is based in Richmond] was one of the first people I brought it in a few months after I started the company. We've been working together very happily remotely. Marc and I communicated daily, and it worked out in the beginning. As Marc has now looked to build out the team, I think he has found some spectacular talent here.
We had a similar accidental happening upon another group here in Virginia who are mobile developers, Jeff Rock and Garrett Ross [of Mobelux ] who built a really killer iPhone app for Tumblr and basically beat us to it.  They built an app for love, and so we made them our official Tumblr developers.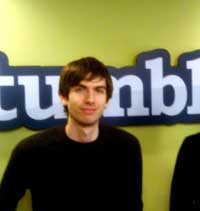 RBS: So the idea was to combine these two teams under one roof?
DK: We had a team of about 10 people strong here in Virginia, and over the past couple months we've been asking the question: Are we at the point where its time to open a Richmond office?
We are moving so quickly right now, having to bring a new support person every four to six months, and we imagine bringing on many more than that in the next year. Knowing we are scaling up this team, it's easier to think about when we have a place where they can set up and have a workstation and hang out together.
RBS: Tumblr is free to use, so how do you make money?
DK: There are a couple things we are excited about: promoting content and marketplaces.
The marketplaces are awesome to us because they allow us to cut big checks to our guest developers. People who are creating original themes for our community can sell them to users. The community is thrilled because they are exclusive, unique, customizable and beautiful. They were hustling to try and sell them on their own. Designers are now selling them on Tumblr, and these brilliantly talented designers are quitting their gigs at design firms to design themes for Tumblr.
Users are also paying for promotion in our directories.
RBS: How many paid themes are out there?
DK: There are thousands of free themes; paid themes are close to 50. It's like an app store or Android store model. Anyone can host anything, and we cherry pick those that are really special and feature them. The ones we cherry pick, we give them the option of being a premium developer.
RBS: What was your intent in starting Tumblr. Did you have a business model in mind?
DK: The first purpose of Tumblr was really two things: We wanted you to post any kind of media and customize everything about your blog. If you are an average user, you pick a theme that looks nice, set the colors, check and uncheck boxes. If you are designer, you tear out the code and you can create something entirely original. At the time it was more interesting to us than it was important. Once we saw the original stuff the creative community was doing with it, then we realized how important and special it was.
RBS: Have you considered having advertising on the site?

DK: That just sort of turns my stomach, the thought of ever having any brand linking on the dashboard taking people out of Tumblr. Anyone with a blog on Tumblr can promote content in their posts, can put any ads they want on the blog. The idea of ever forcing them to put something on their blog — the spirit of Tumblr is that you are totally in control down to every line of code. The idea of changing that really turns our stomach.
RBS: So what is your long-term plan for turning Tumblr into a cash cow?
DK: To be totally honest, I think our investors, they'd be disappointed if we moved too quickly. We are not in a mad rush yet. If we put one ad on the dashboard, we'd be profitable tomorrow.
I think we have a much rarer opportunity with the network we are building. We are one of the largest in the world now. Not to sound immodest, but it's a rare opportunity, and it is something we don't want to mess up. We are lucky to have incredibly supportive investors helping us to figure that part out right now, which is a much harder problem.