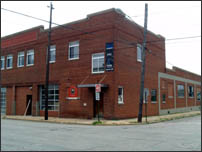 Call it the Justin French effect.
As a result of the black eye developer Justin French allegedly gave a governmental program that awards tax credits for historic rehabilitation, a local agency is changing some of its protocols and will look at applications with greater scrutiny. (You can read about French and tax credits here.)
Kathleen Kilpatrick, director of the Virginia Department of Historic Resources, addressed a packed audience Tuesday morning at a meeting of the Greater Richmond Association for Commercial Real Estate.
"We take serious any threat that reaches to the heart of the program, and we did not hesitate to raise red flags," Kilpatrick said.
DHR has been working closely with the FBI and the IRS as they investigate alleged abuse of the tax credit program by French, who is currently on bail and facing state and federal fraud charges. A hearing for French is scheduled for next week in Richmond District Court.
"As far as the department goes, we are instituting some administrative changes to strengthen the early warning systems and CPA certifications. We will expect more from CPAs in this process," Kilpatrick said.
The state awards a 25 percent tax credit to an eligible project's qualifying expenses. The department requires a certification of those expenses by a CPA for projects with costs greater than $100,000.
Kilpatrick said that the department will be taking a closer looking at costs per square feet as well.
Kilpatrick said during her talk that the tax credit program is as strong as ever and continues to play a vital role in preserving the past and revitalizing urban areas, while at the same time having a net benefit on state coffers.
"We have the data, we have the plain numbers to show that the program is performing for Virginia and producing revenue above and beyond what is forgone paying out credits," Kilpatrick said.
Since its inception in 1997, the program has generated $55 million in state tax revenue above the amount of credits that have been paid out, according to DHR data presented by Kilpatrick.