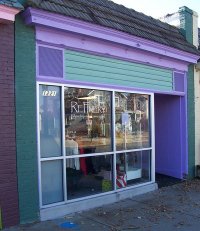 After 20 years in the blood business, a former nonprofit executive now has two years of experience in running her own retail business under her belt.
For two decades, Linda O'Neal managed donor operations as a senior vice president at Virginia Blood Services. In late 2008, she made a career switch and opened a women's clothing consignment boutique, Refinery Inc.
"I went from helping find blood donors to helping women get what they need," said O'Neal.
Refinery Inc. sells upscale new and gently used women's clothing and accessories.
With 432 consigners and no item costing over $150, the two-year old business is going strong.
"It's been growing since I started," O'Neal said.
The store sees four to 20 customers a day and handles an average of 15 appointments a week for clients to come in and drop off clothes, shoes or jewelry.
O'Neal hopes someday to carry men's clothing and would like to eventually open a second location that caters specifically to men.
When she left Virginia Blood Services in August 2008, O'Neal said she had no idea what her next step would be.
"All my time was spent planning and managing from a distance," she said. "I wanted to be immersed in interacting on a daily basis with people."
But she did have a familiarity with consignment stores, and from there the idea for Refinery was born.
"For years I've been a consignment shopper, so I was familiar with the industry," she said.
She found a vacant space on Bellevue Avenue and signed a lease in August 2008. After a couple months of sprucing up, she had Refinery up and running for just under $20,000.
With no prior experience running a business, O'Neal said it's been challenging, but worth the leap.
"The relationships I'm establishing are the most important," she said. "It's been rewarding."
Most consignment shops charge a fee for people to sell their clothes, but O'Neal opted not to charge to keep her customers coming back: "I wanted to be known as a store that focuses on customer service, which I think is lacking in other consignment shops that I've been to."
For now O'Neal is Refinery's lone employee and runs the store six days a week. But those hours are just fine with her.
"Owning one's own business, you have absolute control, and I get to set the culture."