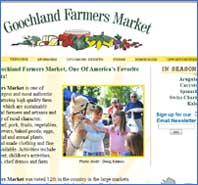 The standoff between the head of a Goochland nonprofit and the organization's board has apparently ended.
Lisa Dearden, the embattled executive director of the Center for Rural Culture, stepped down.
"Guess what today it is?" said Dearden. "My last day of employment with the Center for Rural Culture."
Dearden is making good on her threat to resign effective Jan. 31 if her demands for the resignations of three board members and an independent audit of the organization's finances were not met.
Dearden set off a wave of controversy in Goochland farm country in recent weeks after speaking out publicly about how the CRC's board handles the organization's money. CRC runs a popular farmers market in Goochland and provides educational programs for farmers.
The drama began early in January when Dearden sent a letter to thousands of CRC's supporters expressing her concerns over an alleged $33,000 discrepancy she discovered after continuously being denied access to the organization's books. (You can read how it all began here. )
The CRC board fired back, most recently in a Jan. 24 statement saying that Dearden did have access to the books.
"They just cannot go back and rewrite history," Dearden said. "Why would I go public and put my reputation on the line if I had access to the books? It just doesn't make sense."
Dearden plans to start her own organization, the details of which will be made public soon. Her plans leave open the possibility of a rival farmers market sprouting in the area to potentially compete with CRC's market.
"I'm going to move forward after today and start my own business and continue educating people about sustainable agriculture and food and farming," Dearden said.
"I'm sad about what has happened. But it's best for me to move forward."
The CRC board said in its statement last week that it would make no further comments about Dearden's status with the organization. The board also reiterated that people should withhold judgment until all facts are known.
In addition to its claim that Dearden did in fact have access to the financial records, the board's latest statement also suggests that perhaps it didn't have access to everything financial.
"The executive director for CRC had access to all CRC financial records and was responsible for all account deposits," the board stated in the recent letter. "The board is trying to ascertain whether all such deposit information and financial records were made available to the board and officers."
The future of CRC remains up in the air. Including Dearden, two of the organization's three employees are now gone, and the status of its market has yet to be laid out concretely.
Paula Barkley Fensom, a Louisa County farmer and CRC member who organized a recent gathering of its supporters, said she believes Dearden has garnered enough support over the years and during the controversy that many farm market vendors and CRC supporters would likely latch onto whatever new venture she has planned.
"From what I've already heard, for most vendors, their confidence is with Lisa, and they support her ability to properly manage and represent them," Fensom said.
Fensom said she and other CRC members are waiting to hear back from CRC's board about a number of these issues: "We need to ask the questions, and when the members have questions, the boards need to be open to answering the question. The member's dollars are what run the center."
She said the president of the board has indicated they are willing to talk.
But the big question hovering over Goochland remains: Will we see rival markets?
"I hope not," Fensom said. "We'd like it to not be split sides. It should be an interesting February."
Michael Schwartz is a BizSense reporter. Please send news tips to [email protected]