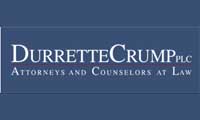 Six last names were whittled down to two when a pair of local law firms joined forces to compete with Richmond's bigger firms.
Adios, DurretteBradshaw and McSweeney Crump Childress & Temple — hello, DurretteCrump.
The two merged Feb. 1, and the new firm has 27 attorneys that combine DurretteBradshaw's litigation and bankruptcy practices with McSweeney Crump's business and employment practices.
"It's a synergy of two different law firms that have slightly different practices," said Bev Crump, senior vice president of the newly combined firm.
Wyatt Durrette, president of the combined firm, said his predecessor firm had been in need of a stronger business practice for years and was referring potential clients to the competition.
"Each of us brings capabilities that the other didn't have and work that each of us was referring out we now can keep in house," said Durrette.
And those combined capabilities and its increased size give DurretteCrump more confidence to go out and compete with Richmond's bigger legal players.
"We certainly have the potential now to make an impact in the marketplace as a larger firm," Durrette said.
As is typical with law firm mergers, no money was exchanged in the merger, and no outside brokers were involved.
"What can make a merger smooth is when you exchange all the financial info you realize that 'hey, we're pretty comfortable,'" Durrette said. "That was the easiest part of this."
He didn't discuss any projected revenue of the combined firm.
And although the financial side of the merger went smoothly, perhaps the toughest decision was what to call the firm and what do with all those names.
"The first question always for a law firm is: Do we change the name at all?" Durrette said. "Small firms struggle for identity. You devote yourself to trying to build your identity in the marketplace."
The partners said at most law firms in town, even those with multiple names on the flag, commonly end up being identified by two-name abbreviation anyway.
As for the guys whose names were dropped in the end –  they took one for the team.
"Paul Childress and Thamer Temple realized that having a string of five or six names didn't do anybody any good," Durrette said.
The idea for the merger first came up last summer, Durrette said, when a McSweeney Crump attorney broached the topic.
"We were very interested once we began to talk about it," Durrette said. "By the end of the year, we came close to agreeing on just about everything."
McSweeney Crump brought over 10 attorneys to join with DurretteBradshaw's 17.
DurretteCrump's home base will be the entire 16th floor of the Bank of America building downtown, previously DurretteBradshaw's main office.
Durrette said the firm will also look to lease some extra space in the building to accommodate its new members.
DurretteCrump also has single-lawyer offices in Midlothian, Fredericksburg and Traverse City, Mich., where the firm's patent attorney lives.
McSweeney Crump was started in 1985.
DurretteBradshaw traces its history back to the mid-1970s when it was in Fairfax. The predecessor eventually made its way in 1983 to Richmond, where its name has seen many incarnations.
Michael Schwartz covers the legal industry for BizSense. Please send news tips to [email protected]