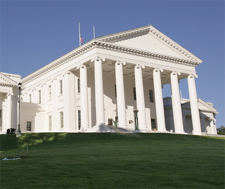 A bill to create a new corporate entity called a "benefit corporation" is making its way through the Virginia General Assembly and if passed will offer budding entrepreneurs and existing companies a new way to do business.

House Bill 2358 was unanimously approved by the House of Delegates last week and has moved to the Senate for consideration.
The law would give businesses the option of registering as benefit corporations, incorporating a social mission in their corporate charters and making its fulfillment a fiduciary duty. These corporations would still be expected to earn a financial return, but it wouldn't be their only goal.
Under the law, a benefit corporation is defined as providing a general public benefit, such as improving human health, promoting arts or preserving the environment. It also gives such corporations the flexibility to consider not only shareholder value, but also employee, consumer and community interests when making corporate decisions.
It would also require the company to make public an annual report assessing its performance in providing the public benefit. The companies would not be taxed any differently than regular corporations.
The bill was introduced by Richmond Del. Jennifer McClellan, who was prompted by the urging of Michael Pirron, CEO of Impact Makers.
"This bill is about using the power of the free market to solve societal problems, and it costs nothing," Pirron said.
Impact Makers is an IT consulting firm that donates its profits to local charities.
"There is a whole new sector of the economy that has already emerged," Pirron said. "There are companies that want this organizational structure, investors who want to make socially responsible investments and consumers who want to be able to differentiate and support these companies."
Currently directors of a company can face lawsuits for taking any action that does not maximize shareholder value.
"This law would allow companies to take those interests into consideration and for shareholders to allow management to not just maximize profits, but also provide a societal benefit," Pirron said.
The structure is appealing to those who want to use their business to pursue a greater good but don't want to start a nonprofit because of their limited ability to attract capital.
Impact Makers is already a certified B corporation, which means it meets the standards set by B Lab, a Pennsylvania nonprofit that has pioneered the concept for creating benefit corporation. The group has certified more than 360 companies across the country, and in 2009 certified B corporations generated more than $1 billion in revenue.
Because it has no shareholders, ImpactMakers wouldn't be able to become a benefit corporation right away.
"We'd have to totally change our structure. It would be complex but still something we would like to do," Pirron said.
If the bill passes, Virginia would be the fourth state to approve the new corporate structure. Maryland was the first to pass such legislation last year, with Vermont following soon after. New Jersey legislators also passed a law, which is waiting for a signature from the state's governor.
Twelve companies applied for benefit corporation status in Maryland after the law took effect last October, according to the Washington Post, with several more applying later. A total of 15 have obtained the status. Examples include an ice cream company that employs at-risk youth, a developer of shared office space for small firms and a company that builds urban farms on blighted lots.
Pirron expects a similar response in the commonwealth if the bill succeeds.
"It's a way to create new jobs and new business in Virginia and help society above and beyond just jobs," Pirron said.
Further reading:
15 firms take advantage of new Maryland law establishing 'benefit' corporations