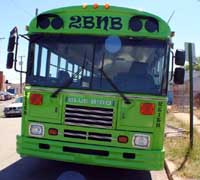 To the Bottom and Back has launched another route: To the museums and back.
The popular free nighttime bus service launched a pilot tourism route Wednesday that will take residents and visitors to museums and historic sites across town.
Two buses will run a 50-minute loop from Feb. 19 until May 15 on Saturdays from 10 a.m. to 6 p.m. The route was launched to support the reveal of the Virginia Museum of Fine Arts new exhibit, "Picasso: Masterpieces from the Musée National Picasso, Paris."
The 2BNB buses will make stops every half-hour at the VMFA, the Virginia State Capitol, the American Civil War Center at Historic Tredeegar, the Maggie Walker National Historic Site, the Richmond Region Visitor Center and other local hotels, restaurants and shopping areas.
"We needed a daytime circulator for tourism," said Sandy Appelman, director of finance of 2BNB.
"With this exhibit coming to town, it was perfect timing to launch a route to provide for tourists and residents."
Appelman said that within the next three months 400,000 people are expected to come to Richmond to visit the new exhibit.
The new route costs between $15,000 to $18,000, which covers running the buses, fuel, drivers and insurance, according to Appelman.
The sponsors for the route include Venture Richmond, VMFA, Lion's Paw Development, Dominion VA Power, Culture Works and others.
Appelman said this is just a trial, but they're hoping to be running it long-term in the future.
"We want Richmond to see that it does work and that this is something that should be provided on a regular basis."