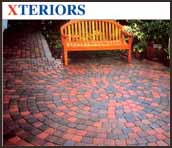 With millions of dollars of debt, a concrete manufacturer in Hanover County and several of its affiliates filed for Chapter 11 bankruptcy protection Monday.
Xteriors manufactures and sells all sorts of concrete blocks used to make everything from fancy driveways and walls to walkways around suburban swimming pools.
"The intent is definitely reorganization," said Roy Terry, an attorney with DurretteCrump who is handling the Xteriors bankruptcy.
Terry said the filing was a result of hits the company has taken from the recession, which has battered its two major business lines, commercial and residential real estate projects.
"The good news is they do see some light at the end of the tunnel," Terry said. "There's just a present cash flow situation and they need a bridge from here to there."
Its online portfolio of products boasts photos of mostly large suburban residential properties, a line of business that has been pummeled throughout the recession.
Xteriors has a manufacturing facility near Kings Dominion and a Hampton Roads location in an industrial section of Chesapeake. The entities filing Chapter 11 include Xteriors Manufacturing LLC, Beaverdam Land Development Co. LLC, Xteriors Factory Outlets and Xteriors of Virginia Beach LLC.
Xteriors Manufacturing LLC listed $4.35 million in liabilities, the largest of which included $1.14 million owed to the SBA, $1.18 million to the Rappahannock Economic Development Corp. and a total of $1.6 million owed to Union Bank & Trust, now Union First Market Bank.
Beaverdam Land Development Co. listed $1.35 million owed to the SBA for a commercial building and land loan on the company's headquarters and manufacturing facility at 16401 International Drive in Doswell. It also is listed as a debtor to the $1.18 million owed to the Rappahannock Economic Development Corp. for the unconditional guarantee to an SBA loan.
Xteriors of Virginia Beach LLC, the company's Hampton Roads location in Chesapeake, owes tens of thousands to various vendors, the IRS, and health-care providers.
Xteriors Factory Outlets owes more than $100,000 to the IRS, $1.14 million to the SBA and thousands to credit card vendors, and a loan for a 2006 Hummer. It also has a hand in the $1.18 million owed to the Rappahannock Economic Development Corp,
Each entity, with the exception of Xteriors Factory Outlets, is 67 percent owned by Donald Hall, the company's founder and president, and 33 percent by Julie Vaas of Chesterfield. The outlet entity is owned 100 percent by Hall.
A message left for Hall was not returned by press time. A call to his home went unanswered.
The Chapter 11 filing allows Xteriors to reorganize and devise a plan to deal with its debts. Terry said Xteriors is still open for business as usual while the bankruptcy process plays out.
Michael Schwartz is a BizSense reporter. Please send news tips to [email protected]