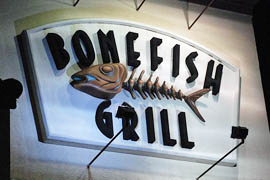 Rumors that Bonefish Grill was coming to West Broad Village proved true on Monday when the chain signed a lease with property manager Markel Eagle.
The Tampa, Florida-based seafood restaurants are owned by OSI Restaurant Partners LLC, known for their Outback Steakhouse and Carrabba's Italian Grill operations.
There are currently 152 Bonefish Grill restaurants in 28 states, the closest of which is on Hull Street Road in Midlothian, the only current Richmond location.
Bonefish joins a growing list of restaurants in West Broad Village, including Kona Grill, Mimi's Cafe, Ledo's Pizza, The Wine Loft and the soon-to-open Keegan's Irish Pub.
The restaurant will occupy a yet-to-be-identified space along Old Brick Road, the community's "Main Street."
This article originally appeared on DowntownShortPump.com, an RBS news partner.