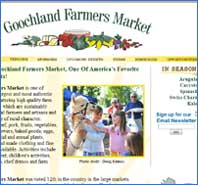 The dust has finally settled in the skirmish between a Goochland farming nonprofit and its former executive director. Turns out, there were no accounting shenanigans going on. But the treasurer of the Center for Rural Culture in Goochland says the damage has been done, but the former head of the organization says she's glad she raised red flags nevertheless.
The spat began in January after Lisa Dearden, who was then the executive director of the Center for Rural Culture, publicly chastised the organization for how the board handles the organization's money. CRC runs the popular Goochland Farmers Market and provides educational programs for farmers.
At the time, Dearden demanded an independent audit to clear up an alleged $30,000 discrepancy and called for the resignations of the board's current and past president and treasurer. (You can read the original story here.)
The board stayed mostly quiet as the feud unfolded. That silence added fuel to the fire.
Keith Flannagan, CRC's treasurer, is still working to clear the air.  He shared documents with BizSense last week to show that an analysis of CRC's financial records did not uncover any misappropriation of money.
"There really were a lot of people who thought the board was stealing from the Center," Flanagan said. "[Dearden] hurt us a lot. She took many of our vendors, and it left uncertainty on what we're going to be doing."
Dearden eventually made good on her threat to resign Jan. 31 if her demands were not met. Dearden then launched ChiknEGG Production LLC, which will operate My Goochland Market, a competitor to the CRC's market.
CRC is still planning to run its Goochland Farmers Market and is still running its various classes and programs.
The group doesn't have the funding to hire another executive director. The anonymous annual grant that helped pay the bulk of Dearden's salary didn't come through as hoped, Flanagan said.
Asked why the CRC board stayed silent early on even though its followers sought answers, Flanagan said they did what they thought was right.
"We weren't going to sit there in public and fight back and forth," he said. "Who was going to believe us? Now there's the paperwork we can show."
CRC had local accounting firm Keiter Stephens analyze the ledgers kept by Flannagan and the deposits that were made on behalf of CRC.
Despite what happened, Flannagan, who has been CRC's treasurer since 2009, has no intention of being forced out.
"I'm not going to hide," he said.
"We are the Center for Rural Culture to teach people how to live in the country. The center has good people and a good mission. We're not going to abandon it."
Dearden, meanwhile, is working quickly to get her new farmers market up and running by May. She has landed a spot at a still undeveloped mixed-use development in Manakin-Sabot.
She says she has around 30 vendors signed on to her market so far and hopes to eventually build a structure on the site to have a more year-round market.
"I got a snowball rolling," she said. "We're off to a really great start."
Though the light she tried to shed on CRC's bookkeeping didn't find anything shady, Dearden said she has no regrets about her actions.
"The CRC came out with the final results of their financial review. No money was missing, for which I'm very happy," said Dearden.
"I feel like that chapter is closed. It's freeing, being out on my own and not having to deal with that."
Now the one question that remains: Is there room for two farmers markets?
"There should be. I hope so," said Flannagan.
Michael Schwartz is a BizSense reporter. Please send news tips to [email protected]