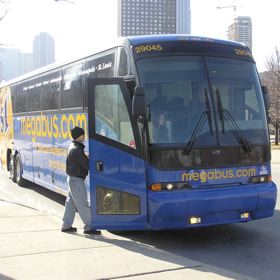 The increasingly popular low cost bus line Megabus is expanding its routes out of Richmond.
The company applied for permission from the Virginia DMV to add a Richmond-to-Norfolk route, according to a legal notice published last week.
Dale Moser, president & COO of Coach USA, Megabus' New Jersey-based parent company, said it has also applied for a Richmond-to-Fredericksburg route.
Since launching its local service in mid-December, the company said it is pleased with the traffic it has seen thus far.
"The Richmond to DC service is trending really well," said Moser. "We are delighted with the customer response and demand for our megabus.com express service."
Megabus is known for its low fares, which start at $1 if riders book far enough in advance. For instance, a trip from Richmond to Washington, D.C., booked about three weeks in advance is only $1.
The company currently runs buses from Richmond direct to Baltimore, Charlotte, Hampton, Philadelphia, Raleigh and Washington, D.C.
It is also known for having Wi-Fi and power outlets for passengers on each bus.
Moser said the company does not release specific numbers on how much traffic its Richmond routes are seeing or how much revenue the routes are producing.
The application for the Richmond to Norfolk route is subject to public comment through March 30.
Moser said the application for the Fredericksburg route is on file and awaiting final state approval.