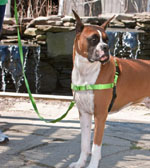 A local pet-product manufacturer finally received a patent for a product that has improved its business and the lives of pet owners.
Premier Pet Products, a Midlothian company that sells training products for dogs, cats and birds, recently had their patent approved for a dog harness that has become their best seller.
The Easy Walk Harness prevents the dog from pulling by tightening across the dog's chest and shoulder blades. The pressure steers the dog to the side and redirects his attention back toward the owner.
"The harness was designed to help prevent a dog from pulling you down the hill when you walk," said Sharon Madere, founder of Premier Pets and co-inventor of Easy Walk.
Premier was acquired in March 2010 by Radio Systems Corporation, a Tennessee-based company that makes the PetSafe, SportDOG and Invisible Fence brands.
Madere has recently stepped down as president and will take on the role of product and protocol development liaison, where she will focus on developing and improving products for Premier.
Premier has been selling the Easy Walk Harness since 2006, but getting their patent approved was no walk in the park.
"It was a very long and lengthy process," said Madere.
Premier has been selling more than 500,000 Easy Walk harnesses each year.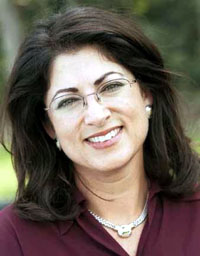 Madere started the process a few years ago to improve on the products that were already out there.
"We looked at what was available and tried to make improvements."
She mentioned that the Sporn Harness, a product made by the Sporn Company, was on the market before theirs, but there were some drawbacks.
"It stopped some dogs from pulling, but it had thin cords that caused chaffing, discomfort and occasional injury."
Madere also said customers were asking for another type of harness, which led to her creating the Easy Walk.
"We focused on it full-time for four to six weeks trying to get the product right," she said.
Madere created the Easy Walk harness along with R.K. Anderson, a vet behavior specialist and founder of the Animal Behavior Resources Institute and Chuck Mann, c0-owner of Premier Pet Products at the time.
Prior to the Easy Walk Harness, the Sure Fit Harness was their best-selling product out of the five types they produce, but it didn't provide complete support.
"The Sure Fit won't stop the dog from pulling."
The Gentle Leader, another one of their core products, helps prevent a dog from pulling and gives the owner more control, but it's designed for owners with dogs with multiple issues, according to Madere.
"The Easy Walk is best for owners if their only issue is pulling hard," she said.
"It's easier and more pleasant for owners."
The Easy Walk harness ranges in price $25 to $30 and is sold in Petcos, Petsmarts and other stores that provide pet products.
Madere wouldn't discuss current sales but noted that before the company was sold they were doing $25 million in sales each year.